News story
Review of decision support tools for GMO screening published
Government Chemist team authors peer-reviewed paper evaluating bioinformatic tools to be used with PCR-based approaches for GMO screening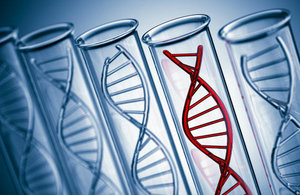 The development and commercial use of Genetically Modified Organisms (GMOs) is subject to strict legal regulation in many countries around the world.
Having appropriate methods and analytical approaches to detect, identify and quantify GMOs is very important to enable the enforcement of legislation. To date, GMO screening for enforcement purposes is mainly performed using PCR-based methods for the detection of specific DNA sequences. A large number of methods have been developed, with many being subject to inter-laboratory validation and made available in the public domain. However, having detection methods in isolation is not sufficient to cope with the increasing number and complexity of GMOs now available. In order to help choose an efficient GMO detection strategy, an informed decision needs to be made on choosing the fewest number of assays to provide the greatest likelihood of successfully identifying a GMO event.
To address this problem, a number of bioinformatics-based decision support system (DSS) tools and resources have been developed. This latest publication describes some of the current DSS tools and related resources available for use with PCR-based approaches for GMO screening, in support of EU labelling legislation enforcement. This review will be of interest to analytical laboratories who wish to augment their GMO screening approaches for EU-authorised varieties and who seek guidance in identifying the most appropriate means to achieve this goal.
The paper can be accessed from the JAPA (Journal of the Association of Public Analysts) website: A brief review of current bioinformatics decision support system (DSS) tools for screening for GMOs in the EU using PCR-based approaches
It follows the recent publication of another GC-authored paper in this field, Recent developments in DNA-based screening approaches for detection of GMOs, also by JAPA.
For more information about the work the Government Chemist does on GMOs contact us:
Government Chemist
Queens Road
Teddington
TW11 0LY
Published 29 June 2017