News story
Review of coroner services launched
Major reforms which have put bereaved people at the heart of the coroner system will be reviewed to see what further improvement can be made, Justice Minister Caroline Dinenage has announced.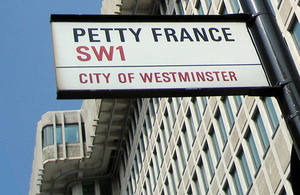 The review launched today will look at the impact of changes made in 2013, which included appointing the first national Chief Coroner to drive quality and consistency, allowing inquests to be held closer to the homes of the bereaved and creating more flexibility so services better meet faith requirements.
These changes have already been used to benefit the bereaved in many cases, for example in inquests into the deaths of service personnel and the new Hillsborough inquests.
The review will also find out whether coroner services are responsive to faith group needs, particularly those who require less invasive post mortem examinations and timely funerals such as Jewish and Muslim communities.
Caroline Dinenage said:
Great progress has been made in raising standards, improving consistency and speeding up inquests. I think even more can done, and this review plays an important role in achieving this.
The reforms brought in 2 years ago were designed to put bereaved people at the heart of the coroner system – I want to make sure we're doing that.
Views are being sought to make sure that the system is working for all who come in contact with it.
The reforms introduced in 2013 include:
the creation of a new national code of practice – setting out what service and standards bereaved people can expect from coroners
the appointment of the first ever Chief Coroner of England and Wales (His Honour Judge Peter Thornton QC) to oversee the coroner system
requiring inquests to be completed within 6 months of the date on which the coroner is made aware of the death, unless there are good reasons not to
requiring coroners to notify those who are bereaved within a week of setting the date for the inquest
requiring coroners to notify those who are bereaved of the date of the inquest within a week of setting the date
providing greater access to documents and evidence, such as post-mortem reports, before the inquest takes place, to enable bereaved families to prepare for the hearing
permitting less invasive post-mortem examinations
speeding up the release of bodies after post-mortem examination, and requiring coroners to notify the deceased's next of kin or personal representative if the body cannot be released within 28 days
The Government wants to hear the views of:
the providers of local coroner services – coroners, their officers and other staff, and the local authorities that fund coroner services
those who have used coroner services under the 2009 Act – bereaved people and the voluntary organisations, including faith groups, who support them
others who interact with coroner services – such as pathologists, other doctors and registrars
others who have been affected by and have experiences of coroner services under the 2009 Act
The consultation will last for 8 weeks, starting today and can be found here
Notes to editors:
Coroner services are provided locally by authorities in each coroner district and are independent of Government. Coroners are independent office holders and have responsibility for their cases, in line with the law.
The reforms implemented in July 2013 were part of the Coroners and Justice Act 2009. The Government committed to review their impact after they had been in place for 18 months.
For further information contact the Ministry of Justice on 0203 334 3536
Published 15 October 2015