News story
Review of consumer credit announced
The Minister met with the All Party Parliamentary Group on Debt and Personal Finance, where he announced the review. It will be conducted jointly…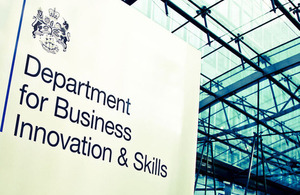 The Minister met with the All Party Parliamentary Group on Debt and Personal Finance, where he announced the review. It will be conducted jointly with Mark Hoban, the Treasury's Financial Secretary, and will cover a number of areas, including:
How consumers enter into credit commitments, including the way in which credit is sold and the extent to which consumers understand what they are committing to;

What issues arise during the lifetime of a loan from both the consumer and the lender perspectives; and

What happens if things go wrong; are the current insolvency solutions fit for purpose?
The review will be an opportunity for all stakeholders to provide evidence on what is working well, and where the Government can intervene to relieve pressures in the system. It is an opportunity to reshape consumer credit policy and will lead to a full consultation later this year, or early next year.
Edward Davey said:
"This is an opportunity not only to improve the safeguards on consumer credit products, where this is necessary. It's also a chance to cut unnecessary regulatory burdens, which increase costs and stifle competition.
"As Consumer Affairs Minister, I want to be sure that people can get fair deals on credit cards, loans and other products on the market - improving access for the financially excluded; having an insolvency regime where those who can, pay, but those who can't are helped to make a fresh start; and ensuring a regulatory framework that's fair to consumers and creditors alike."
The Call for Evidence will be issued after the summer recess, which should lead to a consultation on specific proposals later this year or early 2011.
Notes to Editors
BIS' online newsroom contains the latest press notices, speeches, as well as video and images for download. It also features an up to date list of BIS press office contacts. See http://www.bis.gov.uk/newsroom for more information.

For further information, contact Olivia Campbell on 020 7215 5363 or Olivia.Campbell@bis.gsi.gov.uk
Notes to Editors
Contact Information
Name BIS Press Office Job Title
Division COI Phone
Fax
Mobile
Email NDS.BIS@coi.gsi.gov.uk
Name Olivia Campbell Job Title
Division Department for Business, Innovation and Skills Phone 020 7215 5363 Fax
Mobile
Published 14 July 2010