Press release
Restocking on the River Snail
The Environment Agency is busy re-stocking the River Snail near Newmarket ahead of the fishing season. Approximately 15,000 dace fry have been returned to the river in May to help maintain stocks and enhance biodiversity.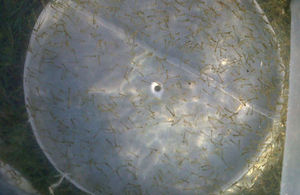 In early March each year between 100 and 150 mature dace are transported from the River Snail to the Agency's Calverton Fish Farm near Nottingham. Here they are spawned artificially in tanks before the pin fry are placed in covered ponds to grow on during the summer and autumn.
The brood stock fish are then returned to the source water once they have fully recovered from the spawning process. When the dace fry are large enough in mid to late winter they are stocked to rivers all over England.
More fry are produced annually than can be managed at the fish farm site – many thousand are returned after 4 to 6 weeks to the river of origin.
Paul Wilkanowski from the Environment Agency's Fisheries and Biodiversity department said:
This process helps to maintain and enhance the river's biodiversity. The Snail continues to be an excellent dace river.
If you see any fish trapped in flood water, fish in distress or illegal fishing, call our incident hotline on 0800 80 70 60 (24 hours).
Published 27 May 2014