Response to the IFS report on education spending
The Department for Education responds to the report by the Institute for Fiscal Studies on education spending.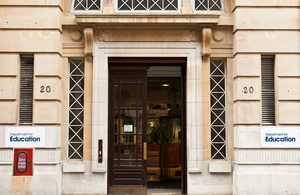 A Department spokesman said:
The Government had to take tough decisions to reduce the deficit, but the schools' budget is actually increasing by £3.6 billion in cash over the next four years. This protects per pupil funding levels and includes the new Pupil Premium, which provides an extra £488 for every child on Free School Meals and which will rise over the next three years.

On top of this, we've increased the free entitlement to 15 hours per week for all three and four-year-olds from last September - and are now extending it all disadvantaged two-year-olds. The two year freeze on teachers' pay also means schools are benefitting from a lower level of inflation.

The new capital budget is higher than the average annual capital budget between 1997-98 to 2004-05. But the Government was absolutely right to look at the amount of money spent on school buildings. An independent review showed that tax-payers money was being wasted on red-tape and consultants, not on building schools. Our new plans will build schools cheaper and quicker than before.
DfE enquiries
Central newsdesk - for journalists 020 7783 8300
General enquiries - for members of the public 0370 000 2288
Published 25 October 2011