Response to Select Committee report on apprenticeships
Government responds to latest BIS Select Committee report on apprenticeships.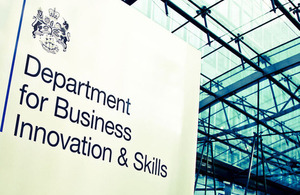 6 Nov 2012
---
---
The Business, Innovation and Skills Committee has today published a report on the Government's Apprenticeships programme.
Skills Minister Matthew Hancock said:
"Apprenticeships are vital for equipping people with the skills they need to prosper, and the nation with the workforce we need to compete in the global race. Over a million people have started an apprenticeship since 2010, right across the economy.
"The report rightly celebrates the sharp rise in the number of apprenticeships, and steps taken to improve their quality, but there is more to do.
"So I welcome this timely and thorough investigation into apprenticeships, and will consider carefully its suggestions to help make the programme even more successful.
"We have asked entrepreneur Doug Richard to report later this year on what more we must do to ensure the apprenticeship programme delivers the rigorous, high-quality service we all want to see."
Links
Published 6 November 2012