Response to Public Administration Select Committee Report
Foreign Secretary's Response to the Public Administration Select Committee Report Published 18 October 2010.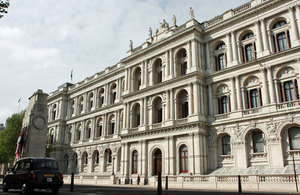 Foreign Secretary, William Hague, said:
"We welcome the Committee's Report. Like the Government, the Committee has identified the chronic lack of strategic thinking in Britain's foreign and security policy in recent years. We came to office determined to put this right.
That is why in our first week in Office the Prime Minister set up a National Security Council, appointed a National Security Adviser and launched the first review of Britain's defence and security needs in over a decade. That is why we took immediate steps to begin to restore the finances of the Ministry of Defence and Foreign and Commonwealth Office to a sustainable footing. And that is why, as Foreign Secretary, I have made it a priority to reinforce the role of the Foreign and Commonwealth Office in driving foreign policy across the whole of Government.
Under this Government there is a proper mechanism for the bringing together of strategic decisions about our security, defence, diplomacy and development, after years of ad-hoc thinking and poor decision- making.
This week we will present the new National Security Strategy and the results of the Strategic Defence and Security Review. After the drift of the last decade, this country will finally have a clear vision of how to build up Britain's influence in the world and protect our security and prosperity."
Published 18 October 2010