News story
Response to Pfizer announcement
"I am establishing a local taskforce under the leadership of Kent County Council to work with Pfizer and the new Local Enterprise Partnership…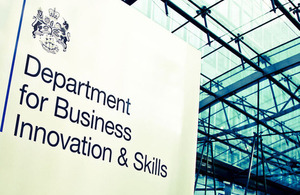 "I am establishing a local taskforce under the leadership of Kent County Council to work with Pfizer and the new Local Enterprise Partnership. David Willetts, Andrew Lansley and I will work closely with the Taskforce in the coming months to ensure every possible effort is made to mitigate the impact of Pfizer's decision on local jobs and the local communities.
"We will also be meeting with Pfizer, other key companies and local representatives as a matter of urgency to discuss innovative ideas for continuing R&D activities in this very well equipped facility, and how the key strands of the R&D portfolio based at Sandwich can best engage with academic teams across the UK who have the potential to drive forward the most innovative areas of UK bioscience.
"This country is an attractive location for the life sciences industry and with R&D tax credits and our plans to introduce a Patent Box, the Government is committed to ensuring the UK is the destination of choice for investment, research and growth."
Notes to editors:
BIS' online newsroom contains the latest press notices, speeches, as well as video and images for download. It also features an up to date list of BIS press office contacts. See http://www.bis.gov.uk/newsroom for more information.
Notes to Editors
Contact Information
Name BIS Press Office Job Title
Division COI Phone
Fax
Mobile
Email NDS.BIS@coi.gsi.gov.uk
Name Michael Gibbs Job Title
Division Department for Business, Innovation and Skills Phone 020 7215 1635 Fax
Mobile
Published 1 February 2011