Response to Ofsted's inspection judgements for maintained schools: Autumn and spring term, academic year 2009 to 2010
Details of Lord Hill's response to Ofsted's school inspection outcome figures and the need for reform.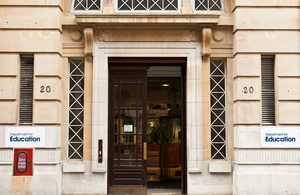 Responding to inspection outcome figures, Lord Hill, Parliamentary Under-Secretary of State for Schools, said:
With almost half of schools inspected since September judged as only satisfactory or inadequate, it's clear there is urgent need for real reform. We need to create more excellent schools and drive up standards across the board - and that's exactly what our academy proposals will help to do. We also intend to reform the inspection regime so that Ofsted's expertise is more targeted on the weakest schools.
DfE enquiries
Central newsdesk - for journalists 020 7783 8300
General enquiries - for members of the public 0370 000 2288
Published 16 June 2010