News story
Response to BIS Statistical First Release 'Post 16 Education & Skills Learner Participation, Outcomes and Level of Highest Qualification Held'
Minister for Further Education, Skills and Lifelong Learning John Hayes said: "Today's statistics clearly show the increasing popularity of…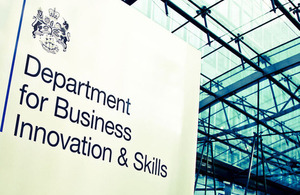 Minister for Further Education, Skills and Lifelong Learning John Hayes said:
"Today's statistics clearly show the increasing popularity of properly funded and effectively targeted vocational training. Having met an ambitious benchmark to expand the apprenticeships programme, we will do even more to deliver the skills that drive growth.
"We're removing bureaucracy from colleges, providing additional support for SMEs, raising achievement levels and creating more opportunities for progression - in some cases up to degree level.
"With every pound invested in apprenticeships generating a return of up to £40 for the economy, this month's budget rightly promised to support a record number of new apprenticeships."
Notes to editors
The Post-16 Further Education and Skills Statistical First Release was published at 9.30am today, at **http://www.thedataservice.org.uk/statistics/statisticalfirstrelease/sfr_current. **

BIS's online newsroom contains the latest press notices, speeches, as well as video and images for download. It also features an up to date list of BIS press office contacts. See http://www.bis.gov.uk/newsroom for more information.
Notes to Editors
Contact Information
Name BIS Press Office Job Title
Division COI Phone
Fax
Mobile
Email NDS.BIS@coi.gsi.gov.uk
Published 31 March 2011