Government response
Response: DfE annual report and accounts for 2013 to 2014
Department for Education response to the publication of our consolidated annual report and accounts.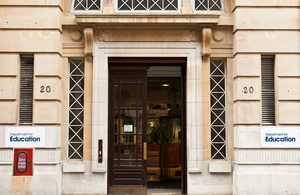 Responding to the publication of the accounts, a department spokesperson said:
We are pleased the NAO has found no material inaccuracies in the financial statements of the department, the EFA and the 3,905 academies included in this report.

However, consolidating the accounts of thousands of academies is an enormous task. This is a complex procedure and the largest of its kind carried out in the UK, and involves the consolidation of accounts with different year ends. We recognise the issues identified by the NAO with this process. We take the concerns very seriously.

We are working closely with the HM Treasury to find a more sustainable solution to this process.
Further information
The Comptroller and Auditor General has acknowledged improvements we are already making to the accounts process, including:
improvements to the timeliness of returns received, having had only 22 academy trusts not provide information
refining and improving the risk-based approach to data collected from academy trusts
obtaining greater detail on academy trusts' pension liabilities, which has removed a source of error identified in 2012 to 2013
The department's financial year ended on 31 March 2014, while academies produce their accounts for the academic year, which ended on 31 August 2013. Consolidating accounts from these 2 different time periods is a significant contributory factor to the level of error and uncertainty in the accounts.
Read the 'DfE consolidated annual report and accounts: 2013 to 2014'.
Published 20 January 2015