Responding to foreign policy challenges through social media
Foreign Secretary William Hague said that the Foreign Office's strong and growing social media presence allows us to respond to foreign policy challenges in a new way.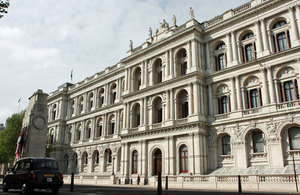 Responding to a Parliamentary question on the Foreign Office's use of social media the Foreign Secretary said that the Digital Diplomacy department encourage the use of social media to deliver foreign policy priorities:
"All senior diplomats are given digital training before heading out to post, including on social media. The digital unit is in constant touch with diplomats at post, working with them to increase their use of social media for use in communications, engagement and in monitoring, in order to gain a wider picture of events. Our social media presence is strong, and growing, allowing us to respond to foreign policy challenges in a new way.
FCO missions and staff currently engage through Facebook and Twitter with over 300,000 followers across the two, and with a growing number of local-language social media in key countries (e.g. Sina.com in China). A significant, and growing, number FCO staff also write blogs, often in local languages, many of which are picked up by online publications in their host countries.
We also make significant use of social media to get messages to British nationals in consular crisis situations and are working with social media partners to increase the reach of our presence on such platforms."
Published 8 June 2011