Press release
Residents and businesses invited to Selly Park North and Selly Oak flood drop-in events
The Environment Agency is inviting local residents and businesses to attend drop-in events to discuss plans to help reduce flood risk for Selly Park North and Selly Oak.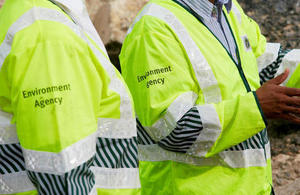 The drop-ins are on Monday 9 May 2016, 4.30pm to 7.30pm at:
Sainsbury's Café
1 Chapel Lane
Selly Oak
Birmingham
B29 6SJ

and
Tuesday 10 May 2016, 4.30pm to 7:30pm at:
Midlands Art Centre (MAC)
Cannon Hill Park
Birmingham
B12 9QH

Environment Agency staff, along with organisations from the River Rea Catchment Partnership, will be on hand to provide information about the Selly Park North flood risk management scheme.
The proposals include improving an existing flood storage area and creating a new underground culvert to help manage the flow of water through the area. There'll also be additional benefits for people and wildlife with plans to redevelop the former BBC Pebble Mill site, and create new habitat and recreation areas at Harborne Lane and the Upper Bourn Brook.
The area of Selly Park North and Selly Oak has a history of flooding from the River Rea, most notably in 2008 when residents were forced to move out of their homes as a result of flood damage. To help, the Rea Catchment Partnership has been investigating options for reducing the level of flood risk for up to 150 properties along a 3km stretch, including these areas.
Mike Adams, Environment Agency Flood Risk Adviser, said:
Flooding can have devastating impacts on people and their homes, often long after the water has gone. Some of the residents here have already experienced that first hand. This is a great opportunity for the community to come and talk to us and tell us what they think about the plans to help reduce the risk in future.
If you're unable to attend, you can request to see the plans and comment by visiting www.reacatchmentpartnership.co.uk and selecting 'Contact us'.
The Environment Agency encourages everyone to check if they're at risk of flooding and register to receive free flood warnings by going online or calling Floodline on 0345 988 1188.
Note to editors
The Environment Agency, Birmingham City Council and Calthorpe Estates are working with a number of partners as part of a group called the Rea Catchment Partnership.
The group was formed to develop projects to reduce flood risk and improve the river environment across the River Rea catchment.
Published 6 May 2016