Reservists stand side-by-side with regulars in Helmand
Lieutenant Colonel Tom Copinger-Symes said reservists had 'integrated seamlessly' into the 5th Battalion The Rifles (5 RIFLES) Battle Group,…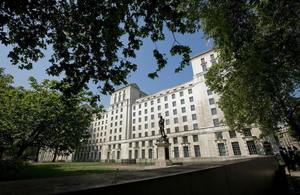 Lieutenant Colonel Tom Copinger-Symes said reservists had 'integrated seamlessly' into the 5th Battalion The Rifles (5 RIFLES) Battle Group, which is responsible for the Nahr-e Saraj (South) area of operations.
Fifty-four Territorial Army (TA) Riflemen joined 5 RIFLES in early June last year, and throughout training and operations the reservists have stood shoulder-to-shoulder with their regular counterparts.
The TA soldiers have also been invaluable when their teams find themselves in front line checkpoints - with handymen, carpenters and electricians stepping up to the plate.
5 RIFLES were heavily involved with operations in Iraq and had little experience of Afghanistan before this tour. But six of the 19 TA soldiers that joined D Company of 5 RIFLES had deployed before, with another two also serving in Iraq - bringing valuable experience to the table.
Out on operations the TA soldiers have blended into the company, performing tasks such as operating specialist weapons and conducting searches for improvised explosive devices (IEDs).
Rifleman Darren Neal comes from a large family in East London and deployed on operations alongside two of his brothers.
With a wife and two children, Rifleman Neal, aged 25, normally works as a car mechanic, but in Afghanistan he is the lead scout for his team in D Company, which are known in 5 RIFLES as the 'Delta Dogs'.
Rifleman Neal is responsible for leading those behind him safely around IEDs laid by insurgents. He said:
The blokes welcomed us in not as TA but as fellow Riflemen. We have all been given the chance to prove ourselves and, from day one, we have been 'Delta Dogs'.
Lance Corporal Chris Corby is serving as a team leader in D Company's 13 Platoon. The 28-year-old from Kingston upon Thames is normally a personal fitness instructor.
He said:
The tempo of exercises before deployment, and the fact that we were on the final exercises within days of joining the company, meant that there wasn't time for a divide to grow between the regular and TA Riflemen.

We all got stuck in straight away and this allowed bonds to develop between us as a platoon and as a company.
Lieutenant Pat Start is serving as D Company's battle captain, running the day-to-day operations.
The 22-year-old from West London said:
The challenge and opportunity to deploy on operations with a Rifles battalion is what has motivated all the TA Riflemen through the long mobilisation process.

Delta Company demanded their all, but our desire to learn and develop our soldiering skills has meant many have exceeded the expectations first set out.
Major Matt Baker, Officer Commanding D Company, said the TA soldiers had more than proved themselves during the tour.
The 35-year-old from Gloucester said he had been 'enormously impressed' with his TA soldiers.
He said:
They have been superb, proving themselves the equal of the regular comrades and clearly enjoying being at the sharp end of operations.
Many have been at the very forefront of our operations, while others have brought with them invaluable experience and expertise. I have been delighted to have them under my command.
Lieutenant Colonel Copinger-Symes said:
Our brother Riflemen from the Territorials have integrated seamlessly. What we get from them are not only excellent core infantry skills but also a wide range of other talents - from the artisan to the academic.

In these types of full-spectrum operations we need people who can think as well as fight; Riflemen who are comfortable with complexity and have a thirst for innovation. The TA is an important source of these soldiers; their wider perspectives reduce the risk of group-led thinking and encourage a more nuanced approach to problems.

But when the going gets tough they have also excelled in the hard, gritty fighting that typifies this theatre. Our Territorials are exactly what we need.
We need your help! We are trying out designs for a new single website for all of government and we'd love your feedback. Please visit the 'Government beta site' by clicking on the link under Related Links.
Published 7 March 2012