Press release
Research shows technology creating new opportunities from old jobs
New report from the UK Commission for Employment and Skills (UKCES) shows jobs both old and new are set to be Careers of the Future.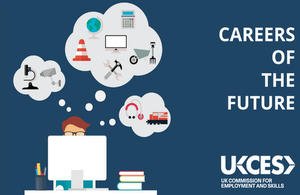 New research published today highlights careers which are engineered to stand the test of time, including which old trades and new are set to grow in the years ahead.
Technology-rich roles such as mechanical engineers and software developers are among 40 jobs highlighted by the UK Commission for Employment and Skills (UKCES) as offering excellent prospects and boosting the economy.
But although some shortlisted jobs are in emerging sectors, others are more traditional, with economic growth and technology helping to future-proof roles such as train drivers, electricians and farmers.
In a new report, Careers of the Future, published today, UKCES identifies careers that labour market analysts believe offer some of the best opportunities for tomorrow's job seekers.
Jobs are analysed according to pay, business need and predicted job opportunities to produce a shortlist across ten sectors.
Sir Charlie Mayfield, Chairman of the John Lewis Partnership and UKCES, said
Technology is changing the world of work dramatically. Many jobs are now a world away from what they once were. Even long-standing jobs – like train drivers for example – have changed radically.
The number of pathways into work is more varied too, with vocational routes now presenting young people with options to combine work and education, developing their knowledge on the job as well as off.
Given these shifts, it's more important than ever that we use data wisely to ensure that those at the start of their career have accurate information about what a job entails and the skills needed to do it. This guide provides a starting point for anyone looking for more information on what careers of tomorrow may have in store.
The report highlights 12 careers from a range of sectors featured in the report, all offering good prospects to tomorrow's job seekers:
Care workers
Construction project managers
Electricians
Farmers
IT business analysts
Mechanical engineers
Nurses
Police officers
Programmers and software developers
Sales account managers and business development managers
Secondary school teachers
Train and tram drivers
Michael Davis, Chief Executive of UKCES, said
This report presents a wealth of options for young people looking to make those all-important first steps into the world of work. It is also welcome news to see increasing opportunities for young people to combine earning and learning when finding their way into work.
The next step is for employers and education providers to continue to develop close working relationships, inspiring young people and creating better jobs in the process.
Skills Minister Nick Boles said:
This insight in to the jobs of the future will be an important tool in helping young people make more informed decisions about their career.
Whether you want to become a mechanical engineer or nursery teacher, our reforms and commitment to driving up the quality of vocational education mean there are now a variety of equally valid and respected pathways in to the world of work.
I want all young people to be able to fulfil their potential by choosing a route that best suits their skills and ambitions, whether that is developing skills in the workplace through an apprenticeship or studying at university.
Published 10 December 2014