Research: Open access to boost innovation
DFID's new open acess policy aims to make research available easily and at no cost to scientists working in the developing world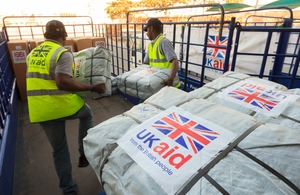 Charging the developing world to see findings of new scientific research will mean fewer people escape poverty and could cost lives, International Development Secretary Andrew Mitchell warned today.
He was speaking as he set out a new open access policy and pledged that all researchers receiving DFID funding would now be required to make their findings available for free online.
The new policy emphasises the need to make research available easily and at no cost to scientists working in the developing world, research bodies, and charities and humanitarian organisations, who can implement new findings in a way that has an immediate effect on the lives of some of the poorest people in the world.
Whilst there are initiatives such as Research4Life that provide eligible libraries in the developing world with free or low cost access to many academic journals online, more can be done.
The most prevalent current approach in the scientific community is to publish results in subscription journals and pay-to-access websites, pricing out many who stand to benefit most from the findings.
Tackling bottlenecks
International Development Secretary Andrew Mitchell said:
Even the most groundbreaking research is of no use to anyone if it sits on a shelf gathering dust. We will continue to support work that finds new ways to tackle diseases that can wipe out a generation, boost crop yields for poor farmers or increase vitamin A levels in sweet potatoes to help malnourished children. What's just as important, though, is ensuring that these findings get into the hands of those in the developing world who stand to gain most from putting them in to practical use.

That means a continued emphasis on tackling existing bottlenecks that stop research reaching those who need it, whether by finding better ways to communicate findings to rural farmers or by working to make new technology more accessible and affordable. This new policy is an important step in that process.
Key requirements and recommendations set out in the new policy for articles, technical reports and multimedia content produced by DFID-funded researchers include:
Research is uploaded as a matter of course to R4D, DFID's online research portal that provides free, open access to more than 30,000 DFID-funded research documents and project information, and links with 3,000 researchers and research organisations
Findings are put online in a way that is quick and easy to download for those in the developing world who have limited internet connectivity, whether because of low bandwidth, prohibitive access charges based on time logged on, or other barriers
Funding made available to cover costs for publication in outlets that charge contributors to cover their production costs rather than covering these through subscription fees
Translation of key findings into relevant local languages is encouraged, for example where research is country or region specific
Use of open licences such as 'Creative Commons', which allow the distribution of copyrighted works.
Published 26 July 2012