World news story
The Newton Fund to invest £12 million to partner with Colombia
The money, which will be invested at £4 million per year, for three years, will also be matched by Colombian organisations.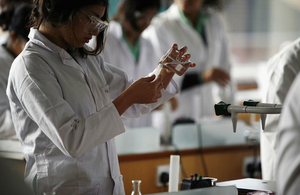 The Newton Fund, administered by the Department for Business, Innovation and Skills (BIS) is part of the UK's official development assistance.
The Fund's aim is to develop science and innovation partnerships that promote the economic development and welfare of developing countries. The global fund is set at £75 million per year from 2014, for five years.
Examples of programme focus for Colombia are:
Development of Future Cities
Agriculture competitiveness
Stimulation of entrepreneurship
Institutional strengthening of science and innovation within central government and national policymaking
Climate change planning mitigation
Health
Opportunities
Activities with Colombia under the fund will, for the most part, be managed by a core group of UK and Colombian Partners. They will allocate all funding through competitive processes which will be open to all interested parties and assessed against set criteria.
Calls will be opened at different times according to the programme area. These will be advertised here, through Delivery Partners, and via the Newton Fund Webpage.
Updates about the #NewtonFund worldwide will be available on Twitter.
A call for Institutional Links is now open. For further information contact the British Council
Contact Details
Please contact us if you wish to be added to our mailing list and receive updates by email.
Published 17 October 2014