Reports of disability hate crime treble in Blackpool
Reports of disability hate crime have trebled in Blackpool after disabled people were encouraged to come forward.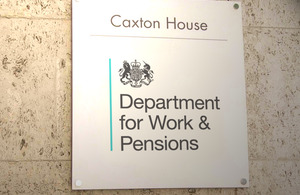 Reports of disability hate crime have trebled in one area of the country after the Government worked with a local charity to encourage disabled people to come forward.
The use of 'third party reporting centres' has seen the number of incidents reported in Blackpool treble to 36 since the project began.
Disability First launched the service after feedback showed disabled people often feel more comfortable reporting hate crime incidents to people they know.
Visiting the project, Esther McVey Minister for Disabled People said:
Disability hate crime in all its forms is intolerable. It perpetuates segregation, creates fear and has no place in our society.

And we know that disability hate crime has been enormously under-reported over many years. We need to encourage more disabled people to recognise when disability hate crime is taking place and to come forward and report it.

That is why I'd congratulate projects such as these which give disabled people the confidence they need as they know the people at the charities.

This is crucial - disabled people's organisations can provide a safe environment for people to report hate crime in cases where many would previously not have considered going to the police.

It is likely that without this service being available these incidents would have gone unreported.
The project has taken 36 reports of disability hate incidents in Blackpool in three months - 12 of which have been reported to the police as a crime. This compares to the 55 crime reports which translated into 11 police action cases across the whole of Lancashire for last year. The latest figures show there were 1,744 reported cases of disability hate crime in England and Wales 2011/12.
Stephen Brooks, National Co-ordinator of the Disability Hate Crime Network said:
Many disabled people tell us that they would not have reported the crime if it hadn't been for our centre. Some disabled people have also said they didn't realise the abuse they suffered was classed as a hate crime.

We have good links with the disabled community in Blackpool and it really helps to build confidence and encourage people to come forward. We can then make sure these terrible crimes don't go unreported in the future.
The key to the centre's success has been in establishing a strong team of local authority staff from adult social services, education and community safety, Lancashire police, MOJ and CPS. Volunteer disabled people take the initial reports and give confidence to the victims that they are being listened to.
The Government has also been working with the charity Disability Rights UK to launch the hate crime guidance to help disabled people recognise when a hate crime has taken place and what to do about it.
The guidance can be found here: http://www.radar.org.uk/people-living-with-health-conditions-disability/disability-hate-crime/ (radar website)
Notes to Editors:
From April 2011 to March 2012, a total of 12 disability hate crime incidents were reported. The total number of incidents reported to date is 36.
Media enquiries: 0203 267 5106
Out of hours: 07659 108 883
Published 24 January 2013