Press release
Report tracks progress of non-executives on departmental boards
Lord Browne publishes his second annual report, tracking progress of non-executives on departmental boards in improving the way Whitehall works.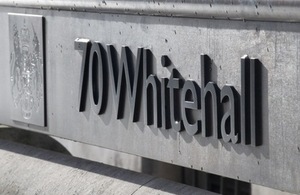 Bringing in outside expertise is helping to transform the way government departments are managed by instilling a more business-like approach and challenging Whitehall to drive up performance, according to a new report.
Lord Browne of Madingley, Government Lead Non-Executive, has today published his second annual report, which outlines the work of non-executives to improve departmental governance.
Since 2010, more than 60 world-class leaders from the private, public and voluntary sectors have been appointed as non-executive directors to help departments deliver the government's ambitious reform programme and introduce greater efficiency, which last year delivered savings of £10 billion for the taxpayer.
Lord Browne's report notes that ministers and senior civil servants increasingly recognise the value of the independent and impartial advice that non-executives offer and that the quality of Enhanced Departmental Board meetings has improved. However, it also provides a frank assessment of progress in priority areas, highlighting where there is more work to do, such as building commercial and procurement skills and improving the quality and consistency of management information.
Welcoming the publication of the report, Minister for the Cabinet Office Francis Maude said:
I can see from both my own department, and from the rest of Whitehall, that running our boards in a more business-like manner is helping to drive efficiency, implement civil service reform and improve the management of major projects.

I value the expertise and challenge I receive from the non-executives on my board, and also from the network of non-executives across government. The initiative to enhance departmental boards is one that has already made a positive difference and will continue to do so.

Despite progress, we know we have further to go on areas like improved management information so we welcome this frank assessment and will continue to focus on addressing weaknesses.
While the overall number of Enhanced Departmental Board meetings held across Whitehall increased by 20% last year, increasingly non-executives are having an impact outside the boardroom, by, for example, supporting strategic reviews like the Department for Education's zero-based review.
The report also highlights the role non-executives can play in acting as a bridge between ministers and civil servants, together with the key role they are playing in senior appointments.
Published 6 June 2013