Report shows how cross-sector collaboration is transforming HM Land Registry
HM Land Registry has today (11 July) published its 2018/19 annual report titled 'Transforming together'.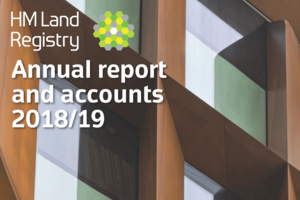 The report, which comes 18 months after we launched our five-year Business Strategy, shows how we have worked with a range of partners over the last 12 months to help deliver on our ambition to become the world's leading land registry for speed, simplicity and an open approach to data.
In the last year our transformation has seen us roll out our innovative digital mortgage service to a range of high-street lenders, making it faster and simpler to remortgage a property. We have also successfully trialled transferring a property using blockchain technology and extended our new centralised Local Land Charges service, bringing on board six local authorities.
Acting Chief Executive and Chief Land Registrar Mike Harlow said:
Land in England and Wales is our primary resource for life. It provides our homes, our food, a place for our businesses, space for recreation, natural beauty, heritage and our infrastructure. The way we enable land to be owned and sold fundamentally affects our social wellbeing, our environment and our prosperity.

We want to be the world's leading land registry to enable the property market in England and Wales to be the best it can be. We want to use the latest technology to help the market to be better informed, simpler, faster and cheaper.
Read the full report and the highlights of the year.
Contact
Press Office
Trafalgar House
1 Bedford Park
Croydon
CR0 2AQ
Email HMLRPressOffice@landregistry.gov.uk
Phone (Monday to Friday 8:30am to 5:30pm) 0300 006 3365
Mobile (5:30pm to 8:30am weekdays, all weekend and public holidays) 07864 689 344
Published 11 July 2019