News story
Report recommends measures to support and increase outward UK student mobility
The report by Professor Colin Riordan, Chair of the UK HE International Unit, looks at the incentives and obstacles to students studying and…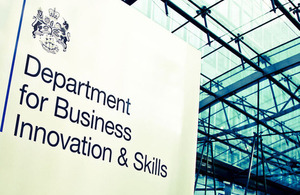 The report by Professor Colin Riordan, Chair of the UK HE International Unit, looks at the incentives and obstacles to students studying and working abroad. It makes recommendations to ensure the numbers of students choosing to go abroad increases in the future.
The report's main recommendations are:
The development of a national strategy for outward mobility and a sector- led body to support this. Professor Riordan and the Joint Steering Group on Outward Student Mobility have now been asked to develop this idea and present options for a sector-led solution.
A replacement scheme for the current Erasmus fee-waiver that will come into effect from the academic year 2014/15. For the first time, financial support will also extend to student placements at overseas institutions outside of the Erasmus scheme - both within and outside of the EU.
Universities and Science Minister David Willetts said:
"Study abroad offers a huge range of benefits for students taking part, and also for our universities and the wider UK economy. Students improve their employability, institutions develop their international links and businesses value the wider experience of those who've spent time abroad. It's a win-win for all.
"The number of UK students taking overseas placements has been low. Today's report and our new funding arrangements will help address this gap."
Professor Colin Riordan, Chair, UK Higher Education International Unit commented:
"Studying, working or volunteering abroad increases the employability and financial rewards for students in the international labour market. Despite this the UK ranks just 25th in the world for the number of students studying overseas.
"The Government clearly recognises the importance of outward mobility not just for students, but for higher education institutions and the UK economy and we are delighted they have listened to the recommendations set out in our report. In particular we are pleased that the Government has asked the higher education sector, through the International Unit, to explore possible models for a national mobility strategy, including a national body to co-ordinate this.
"We are also pleased they have taken seriously the recommendation of our report that there should be continued support for Erasmus mobility, despite the challenging economic circumstances. At a time when it is more important than ever for the UK to be competitive internationally, we look forward to working with the government to help increase the number of students deciding to study abroad".
Obstacles that currently inhibit outward student mobility include the inflexibility in the curriculum and the lack of recognition students receive for their time abroad. Today's report recommends making it easier for students to spend time abroad via shorter placements and also calls for the experience to be academically recognised so that time abroad counts towards a British degree.
**Notes to editors
**
1. Professor Colin Riordan's report can be found on the International Unit's website at http://www.international.ac.uk/policy/policy-positions-and-statements/mobility.aspx
Professor Colin Riordan was appointed Vice-Chancellor of the University of Essex in October 2007. He will take up the post of Vice-Chancellor of Cardiff University in September 2012. He is also chair of the UK HE International Unit.

The working group supporting Professor Riordan comprised representatives from HE institutions, business, government, the devolved administrations, British Council and the National Union of Students.

The replacement for the current Erasmus fee-waiver will comprise two components:
a) Allowing English HE institutions to charge students that take year abroad placements a tuition fee up to 15% of their maximum fee cap. In 2013-14 prices this is equivalent to £1,350 to students attending HEIs where the higher tuition fee amount is permitted and £900 for to students attending HEIs where the basic amount permitted; and allowing these students access to a tuition fee loan to cover these costs. This will apply to students taking:
Placements under the Erasmus Scheme (both study and work placements)
A study placement at an overseas institution outside the Erasmus scheme both within or external to the EU
Eligibility will be as similar to that currently specified in the student regulations, where full time students are required to spend less than 10 weeks study at their English institution during an academic year.
b) Payment of a grant to HEIs from HEFCE, who have been asked to consider providing supplementary funding to support institutions participating in overseas student exchange programmes. Subject to HEFCE Board decisions and, if necessary, a possible overall cap in numbers, we envisage that this might provide approximately £2,250 for students taking a whole year abroad under the Erasmus scheme or a non-Erasmus whole year study placement abroad. Detail of this arrangement is expected to be announced in the summer of 2012.
This will apply to students taking placements under the Erasmus Scheme (both study and work placements) and a study placement at an overseas institution outside the Erasmus scheme both within or external to the EU. For the first time, this support will also extend to students from English HE institutions taking year abroad exchange placements outside of the Erasmus scheme, to destinations within and external to the EU

There is a range of support already in place to help address the barriers to UK outward student mobility, e.g:
costs are supported through an EU grant; and
all English students studying abroad continue to be eligible for a maintenance loan, and grants are also available for those from lower income households, to assist with their living costs for the year.
BIS's online newsroom contains the latest press notices, speeches, as well as video and images for download. It also features an up to date list of BIS press office contacts. See http://www.bis.gov.uk/newsroom for more information.
Notes to Editors
Contact Information
Name BIS Press Office Job Title
Division Department for Business, Innovation & Skills Phone
Fax
Mobile
Published 3 May 2012