Press release
Report on universities and growth publishes initial findings
The initial findings of Sir Andrew Witty's independent review of universities and growth have been published today.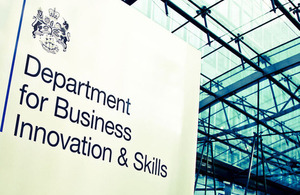 They set out themes that will be explored when Sir Andrew publishes his full report later this year. These include improving the access for small and medium sized enterprises (SMEs) to universities and identifying local areas of strength to help shape regional growth plans.
Universities and Science Minister David Willetts said:
These initial findings make for useful reading and will help to shape local strategic growth plans and support our industrial strategy. I look forward to receiving the full report and the recommendations later this year and would encourage local business and university leaders to continue to engage with the review process.
Chair of the review, Sir Andrew Witty said:
Throughout my initial findings it has become clear that universities are essential to driving economic growth, but that there is scope for them to play a bigger role. My final report will aim to ensure that our world leading universities and research base are at the heart of local growth strategies, building on areas of existing local strength.
The initial findings cover a number of themes, including:
making sector or cluster strengths the starting point for developing plans for regional growth
making sure universities play a stronger role in economic development
improving SME access to universities, including a stronger role for university business schools to provide support to SMEs
reducing the complexity of funding streams that support research and innovation
ensuring national organisations support innovation and regional growth
The preliminary findings include heat maps showing locations with strong areas of business, research and employment across the industrial strategy sectors such as automotive, oil and gas and life sciences. This will help Local Enterprise Partnerships (LEPs) understand where they have particular strengths and where there are opportunities for collaboration.
Notes to editors:
The Witty Review was launched in March 2013 by Universities and Science Minister David Willetts. It was tasked with exploring how universities can support growth by working with organisations such as Local Enterprise Partnerships (LEPs), as the local bodies responsible for developing economic strategic plans and to drive economic growth across the country.
The Review has gathered evidence for the Preliminary Findings through a Call for Evidence published in early May and through stakeholder meetings with universities and LEPs around the country.
Sir Andrew Witty will publish his full report later this year. The latest findings can be found at https://www.gov.uk/government/consultations/universities-and-growth-the-witty-review-call-for-evidence.
The government's economic policy objective is to achieve 'strong, sustainable and balanced growth that is more evenly shared across the country and between industries'. It set four ambitions in the 'Plan for Growth', published at Budget 2011:
to create the most competitive tax system in the G20
to make the UK the best place in Europe to start, finance and grow a business
to encourage investment and exports as a route to a more balanced economy
to create a more educated workforce that is the most flexible in Europe.
Work is underway across government to achieve these ambitions, including progress on more than 250 measures as part of the Growth Review. Developing an Industrial Strategy gives new impetus to this work by providing businesses, investors and the public with more clarity about the long-term direction in which the government wants the economy to travel.
Published 9 July 2013