Report: Child deaths drop by 4 million
A new report from UNICEF and Save the Children shows development works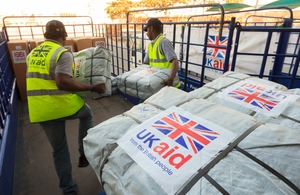 A new report from UNICEF and Save the Children highlights improvements for millions of children, identifying international aid as a key driver of change.
Over four million fewer children under 5 are dying each year than in 1990. There were 56 million more children enrolled in school between 1999 and 2009 and 131 countries now have more than 90% immunisation coverage for diphtheria, tetanus and major preventable childhood diseases.
Aid is one of six key factors identified in the report as driving marked improvements in child wellbeing and survival. The worldwide study is based on independent research by the Overseas Development Institute over the last two decades.
Other key factors driving these improvements are commitment and leadership from national governments; social investment and economic growth; well-planned programmes which target the most marginalised groups; and technology and innovation.
Responding to the report, International Development Secretary Andrew Mitchell said:
This research is further proof that well-spent aid can - and does - save the lives of the world's poorest people, many of them children.

It is vital that others follow the UK's lead and stick to their promises to save further lives.
The British Government is committed to spending 0.7% of Gross National Income (GNI) on international development from 2013.
Save the Children, Chief Executive Justin Forsyth said:
This report clearly demonstrates the positive impact of well-targeted aid, which aligns with national governments' strategies.

Millions more children are now surviving beyond their fifth birthday thanks to aid, economic growth and good government policy.

Where funding gaps exist - for example for primary education or child health - aid can make all the difference.
David Bull, UNICEF's UK Executive Director, said:
This research is great news for children. But millions are still not being reached and are suffering. We must now redouble our efforts, focus on the most disadvantaged children and defend our overseas aid policy at a time when it is coming under increasing pressure. There is only one chance at childhood and we must not allow the economic crisis and funding shortages to harm children.
Download the report "Progress in Child Well-Being: Building on What Works"
Published 17 April 2012