News story
Report calls for universities to be at heart of economy
The former vice-chancellor of the University of Hertfordshire and HEFCE board member Professor Sir Tim Wilson was asked by the Government to…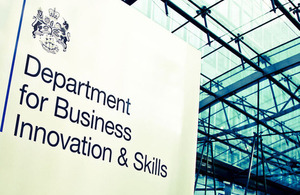 The former vice-chancellor of the University of Hertfordshire and HEFCE board member Professor Sir Tim Wilson was asked by the Government to undertake a review into how universities work with business to ensure graduate skills and employability meet the needs of business, and to maximise the university sector's capabilities in business-led research and innovation.
His report makes a series of recommendations for universities, business and the Government.
Business Secretary Vince Cable said:
"The best universities around the world are building deeper links with business. We must ensure our universities and businesses develop strong relationships to maximise innovation and ensure students come out of universities equipped to excel in the workforce."
"The Government welcomes much of what Sir Tim says and will now carefully consider his recommendations in detail."
Universities and Science Minister David Willetts said:
"Sir Tim's review has identified a number of examples of how collaboration can work in the real world and the good practice that already exists. I'd now like to see this best practice spread more widely within and across universities, businesses, industry sectors and local areas.
"Sir Tim has produced a comprehensive and timely report. The challenge now is for universities and businesses - with government - to work together to drive forward these recommendations to ensure the long term world class competitiveness of our economy."
Professor Sir Tim Wilson said:
"It is clear from my review that the UK has the potential to be a world leader in university-business collaboration, building on the diversity of collaborative networks, partnerships and supply chains that already exist. The key to success is on-going cultural change, strengthening and extending the relationships between business and universities. To achieve this; belief, commitment and leadership amongst universities, business and government is essential.
"If this potential is fulfilled, universities will be at the heart of our knowledge-based economy, collaborating with business and government to generate the wealth necessary for a healthy and prosperous society.
"I hope that my recommendations will act as a foundation for such future success."
The report's recommendations aim to:
Produce graduates with knowledge and skills - specialist and generic - relevant to their future careers, and provide opportunities for students to integrate work and enterprise experience and study.

**Ensure there is a constant interchange of research, ideas and people between academe and business **to sustain world class research within our universities.

Embed a culture of pursuing the application of university based research excellence, optimising the use of government support in research, innovation and development.

Create economic growth through partnership with Local Enterprise Partnerships and government agencies, leveraging each university's capabilities to support UK companies and to attract inward investment.

Build collaboration between universities, businesses and government agencies to identify areas of future knowledge and capability creation and identify where partners' research investment should be made.
The Government will formally respond to the review recommendations in due course.
---
Notes to editors
Professor Sir Tim Wilson's review can be found on the BIS website here http://www.bis.gov.uk/assets/biscore/further-education-skills/docs/w/12-610-wilson-review-business-university-collaboration and the review website here www.wilsonreview.co.uk.

Sir Tim Wilson was appointed Vice-Chancellor of the University of Hertfordshire in September 2003, a post he held until December 2010. A strong advocate of the role of universities in economic development and acknowledged as one of the leading thinkers in university-business collaboration, he was the founding Chairman of Hertfordshire's Local Enterprise Partnership. Sir Tim was appointed Knight Bachelor for services to Higher Education and to business in the 2011 New Year's Honours List.

Professor Sir Tim Wilson has been supported by a core review team: Alix Green, Head of Policy, Hertfordshire University has been Principal Adviser to the Review, with Chris Millward, Higher Education Funding Council, and Andrew Battarbee, BIS. A Review Panel of contributors with in-depth experience of university-business collaboration and a culture of evidence based research have provided the foundations of the report. An Editorial Board of expert business and university representatives has provided comments on the emerging report. A wider Advisory Board of individuals with expertise in the field have informed and guided the direction of the report. Research coordination and secretariat has been provided by HEFCE - Peter Seddon, Chris Rowell, Nicki Jackson, Fiona Gray.

BIS's online newsroom contains the latest press notices, speeches, as well as video and images for download. It also features an up to date list of BIS press office contacts. See [http://www.bis.gov.uk/newsroom](http://www.bis.gov.uk/newsroom) for more information.
Notes to Editors
Contact Information
Name BIS Press Office Job Title
Division COI Phone
Fax
Mobile
Email NDS.BIS@coi.gsi.gov.uk
Name Jenny Varnham Job Title
Division Department for Business, Innovation and Skills Phone 020 7215 5080 Fax
Mobile
Published 28 February 2012