Press release
Report 10/2015: Derailment at Porthkerry
RAIB has released its report into the derailment of a loaded coal train at Porthkerry, South Wales, 02 October 2014.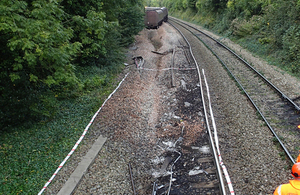 Summary
At 02:30 hrs on Thursday 2 October 2014, a loaded coal train derailed at Porthkerry, between Barry and Rhoose on the Vale of Glamorgan line in South Wales. The last two wagons in the train were derailed when the rail beneath them collapsed. Nobody was injured.
The cause of the derailment was the failure of a section of the left-hand rail due to a metallurgical defect within that rail. The defect arose due to impurities within the steel which had been present since manufacture. The rail had been installed at Porthkerry in 2008 but had previously been used at another site. The presence of the defect was not discovered when the rail was installed at Porthkerry.
The rail was not replaced before it collapsed, due to a combination of factors: visual inspections intended to identify this type of defect had not been carried out, the regular track inspections had not found it and none of the staff responsible for management of the track had identified that the rail needed urgent replacement.
The defect that was later to cause the derailment was eventually discovered on 30 July 2014 during an inspection that was being carried out to monitor a different type of rail defect. However, according to Network Rail's standards, a defect of the type identified did not require urgent attention and therefore a period of 52 weeks was allowed for rail replacement. Consequently no action was taken to address the reported defect before the date of the derailment.
Recommendations
As a consequence of this investigation, RAIB has made three recommendations to Network Rail concerning the methods used to detect this type of rail defect, the techniques used to assess its severity and assessing the risk posed by similar rail in other locations.
RAIB has also identified a learning point for the industry concerning the delegation of inspections by track maintenance engineers.
Notes to editors
The sole purpose of RAIB investigations is to prevent future accidents and incidents and improve railway safety. RAIB does not establish blame, liability or carry out prosecutions.

RAIB operates, as far as possible, in an open and transparent manner. While our investigations are completely independent of the railway industry, we do maintain close liaison with railway companies and if we discover matters that may affect the safety of the railway, we make sure that information about them is circulated to the right people as soon as possible, and certainly long before publication of our final report.

For media enquiries, please call 020 7944 3108.
Newsdate: 6 August 2015
Published 6 August 2015