Repeat knife offenders face new minimum prison term
Minimum prison sentences for offenders who repeatedly carry knives will come into effect from 17 July 2015.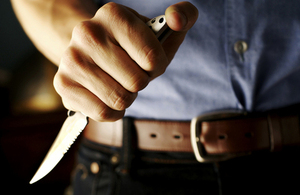 Minimum prison sentences for offenders who repeatedly carry knives will come into effect from 17 July 2015, Justice Minister Mike Penning has announced.
The new 'two-strikes' sentence means that adults convicted more than once of being in possession of a blade face a minimum 6 month prison sentence and a maximum of 4 years.
Young offenders, aged 16 and 17, will face a minimum 4 month detention and training order.
Last year, 1,300 people received a non-custodial sentence or caution for a repeat offence of knife possession. Under the new rules, they would all have faced a prison sentence.
Knife crime has fallen and the new measure makes it clear that offenders who carry blades will be properly punished.
Criminal Justice Minister Mike Penning said:
Your local area should be a safe place to grow up, work, raise a family and retire.

We are already making sure knife offenders are properly punished and keeping more off the streets for longer, making our communities safer.

With this new measure we are sending out the strongest message to offenders – repeatedly take a knife onto our streets and expect to go to prison.
A law was passed earlier this year to allow the minimum custodial sentence to be introduced. The measure was brought forward by former MP Nick de Bois as an amendment to the Criminal Justice and Courts Act.
The government has now confirmed that the changes will come into effect from 17 July 2015.
Knife offences have fallen by around 40% between 2009 and 2014. At the same time the proportion of knife offenders going to prison has increased from 22% to 29%, while average sentences for knife offences have increased from 166 days to 227 days.
Measures taken since 2010 to respond to victims' concerns and toughen punishments include:
creating a minimum prison sentence for anyone caught brandishing a knife at a school or in a public place
banning the use of cautions, under the Criminal Justice and Courts Act 2015, for offenders convicted of serious offences, including those who carry knives - so more people face the full weight of the law. The latest published figures show that between January and March 2015, just 10% of adult offenders were given cautions for knife possession, its lowest recorded level
bringing in measures to stop repeat cautions for anyone who commits the same or similar offence more than once in a 2 year period
Notes to editors
The measure was included in the Criminal Justice and Courts Act, which received Royal Assent in February 2015.
The commencement order has been laid today, meaning the measure will come into effect in two weeks' time, on Friday 17 July 2015.
Unlawful possession of a knife or offensive weapon is a serious criminal offence that carries a maximum 4 year custodial sentence.
As is standard practice, judges will retain discretion not to impose the sentence where there are particular circumstances relating to the offender or the offence(s) which would make the imposition of the sentence unjust. The discretion is always written into statute that imposes a minimum sentence. The same situation applies in other existing minimum sentences such as for third conviction for domestic burglary (3 years), third class A drug trafficking (7 years) and possession, purchase, acquisition, manufacture, transfer or sale of certain prohibited weapons – ie firearms (5 years).
For further information please call the Ministry of Justice press office on 020 3334 3536. Follow us @MoJpress.
Published 3 July 2015