Remploy and Ministry of Social Security signs MOU
Leading UK provider of employment services signs agreement with Mauritius as part of British High Commission's Paralympics legacy efforts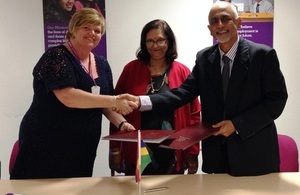 Remploy, a leading British provider of employment services for people with disabilities, and the Mauritian Ministry of Social Security, National Solidarity and Reform Institutions signed a Memorandum of Understanding on Monday 23 September in London. The MOU was signed by Ms Beth Caruthers of Remploy and Mr Bojrazsing Boyramboli, Permanent Secretary of the Ministry, in the presence of Minister Sheila Bappoo, on her official visit to the UK.
The agreement is part of the British government's efforts to build a lasting legacy from the 2012 Paralympics games. These were the biggest and most successful paralympics games ever and the objective is to build on this impetus to bring about a shift of attitude towards people with disabilities.
The High Commission in Mauritius has been working in close collaboration with the Ministry and Remploy. Earlier this year, we jointly organised a conference promoting 'equal access to work for people with disabilities'. Feedback from the participants was overwhelmingly positive and initial discussions started for the MOU focusing on various areas of collaboration, including raising awareness of employers, capacity building for the Disability Unit and assessing training needs.
Sharon Taylor, Deputy British High Commissioner, said:
"We are delighted that this MOU has been signed. Remploy has a vast experience in assisting people with disabilities to find work. We look forward to working with the Ministry of Social Security and other stakeholders in Mauritius to continue building on the Paralympics legacy; transforming attitudes towards disability"
Published 25 September 2013