World news story
Remembrance Sunday Service held at Commonwealth War Graves Cemetry
Addis Ababa falls silent to remember those who died liberating Ethiopia in 1941.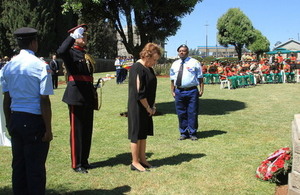 At 1100hrs on Sunday 13 November 2016, silence fell across the Commonwealth War Graves Cemetery in Addis Ababa as those who died in the liberation of Ethiopia in 1941 were remembered. In recognition of the many nationalities who gave their lives Ambassadors and military attaches from over 40 countries laid wreaths at the memorial.
The Ethiopian National Defence Force Marching Band played alongside representatives of the British Army's Corps of Army Music, who had flown in especially for the occasion.
Leading the commemoration, British Ambassador Susanna Moorehead said:
I hope we can also use this occasion today to think of those who are still dying throughout Africa and across the world in man-made conflicts, and to remember all those who are struggling to bring peace to the world and silence the guns by 2020. There is still much work to be done, but we much not give up for the sake of our children and future generations.
Bishop Grant LeMarquand, Anglican Bishop for The Horn of Africa, reminded those assembled of the important role they have to play as peacemakers today.
The graves of two Belgium soldiers killed during the Second World War in Gambella recently moved from the cemetery were inaugurated during the commemoration. 357 people are buried in the cemetery from countries including the UK, South Africa, India, Belgium, Nigeria and Kenya. 297 graves date from the Second World War and there are 60 others, including Brigadier Sandford, a British adviser to Emperor Haile Selassie, and Dr. Reginald Hamlin, one of the founders of the Fistula Hospital Addis Ababa.
Notes to Editors
More information on the Commonwealth War Graves in Addis Ababa is available here: Commonwealth War Graves in Addis Ababa
Published 15 November 2016