World news story
Remembrance Day 2014 speech by British High Commissioner to Malaysia
Remembrance Service opening speech by High Commissioner to Malaysia HE Vicki Treadell CMG, MVO in Kuala Lumpur on 9 November, 2014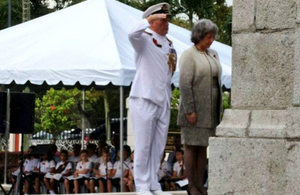 Your excellencies, honoured guests, ladies and gentlemen. Good morning and thank you for being here so early on this beautiful Malaysian morning.
Today is a very moving occasion for me, as this is the first Remembrance Day service I have hosted as the new British High Commissioner to Malaysia, the country of my birth.
We are gathered in this place of such meaning to honour all those who have fought and died in times of conflict. People have visited this place to pay their respects to the fallen since 1964, today we continue this tradition and remember their sacrifice. I believe in the importance of upholding this tradition and passing it down to future generations. Bringing us together every year in this unity of purpose defines who we are and the values we share.
This year marks the Centenary of World War One and a series of events across the world. Today I would like us to reflect on the so called War to end all Wars, regrettably that was not the case. World War One began on July 28, 1914 and lasted until November 11, 1918. Around 16.5 million people lost their lives and approximately 20 million people were injured. To us today it seems inexplicable that countries which had many things binding them together would indulge in such a never-ending slaughter. But they did. The death and suffering was on a horrific scale, one that far outstrips any other conflict.
Malaysia's role in the First World War is less well-known, but its contribution was no less significant. Winston Churchill said that Malaysia had given more than any other part of the Empire had been able to do. So today I express gratitude to Malaysia for its contribution and we honour those from the Malay States Volunteer Rifles who gave their service.
The First World War serves as a reminder of the brutality of conflict. But for all the profound trauma, the resilience demonstrated the sacrifice given, the courage shown, secured the values we hold dear. The lessons learnt changed Britain and shaped us as the nation we are today. We cannot help but be moved by the commitment shown and the harsh realities of the suffering that occurred. We are inspired and draw strength from this history when the best amongst us showed such spirit and fortitude.
The British Prime Minister, David Cameron, gave a moving speech to mark the start of the Centenary; I would like to share a short extract with you:
We are marking the centenary to honour those who served, to remember those who died and to ensure that the lessons learnt live with us forever. It is right to remember the extraordinary sacrifice of a generation and we are all indebted to them because their most enduring legacy is our liberty.
As we honour and remember all those who have fought and died in times of conflict, can I ask in this 100th year since the beginning of World War 1 that we particularly remember those who fell during the First World War. We will remember them.
Published 18 November 2014