Remembering those that served
Foreign Secretary William Hague laid a wreath at the Diplomatic Service Memorial in memory of the officers who died as a result of terrorism and violence while serving overseas.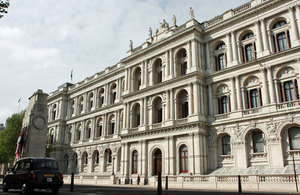 Speaking at the wreath laying ceremony the Foreign Secretary said:
"Today we honour the memory of 18 courageous men and women whose lives tragically were cut short in service to our country and the Foreign and Commonwealth Office. We owe them a great debt of gratitude and we pay tribute to their memory, to their important work and to their undoubted bravery.
We must particularly honour their bereaved families. To them I say: You lost your loved ones in appalling circumstances, and you will always be in our minds. On behalf of our Prime Minister, the Government and the Foreign Office, I again offer you our condolences and our deepest respects. And I thank you for the contribution that you have made to the service of our country overseas.
This ceremony is also a moment to take pride in the Foreign Office and all it represents; the very qualities which inspired all of us in our different ways to be part of what it does.
It is a great honour to lead an organisation that makes such a unique and irreplaceable contribution to the United Kingdom - and to work with people who combine talent and dedication with the highest traditions of public service.
This year amid revolutions and turbulence in the Middle East, the violence ousting of a dictator in Cote D'Ivoire, the perils of Afghanistan, intervention in Libya, nuclear disaster in Japan and in numerous other countries where violence or political tension and prevail, our staff have continued undaunted to support local British communities and business, to oversee evacuations and provide consular assistance, to enter conflict zones to provide crucial reporting. They have done so despite personal risk, and I thank them for that.
I want to pay particular tribute to our locally engaged staff who work alongside us, despite often facing pressures from their societies and governments. And I want to express my gratitude to all Foreign Office spouses and families. As one of our staff in Cairo said after the instability there: "the families and spouses who were evacuated were the real heroes; not knowing when they would be back, nor what would happen to those they had left behind".
The Prime Minister has asked me to convey his condolences for those we honour today. I want to conclude with his words of remembrance and thanks. He says to you all: "This is an important day to remember those who have died serving their country in the Diplomatic Service. Their sacrifice is a reminder of the work you do, as their colleagues and successors, on behalf of our country day in and day out. We could not do without you. I am proud of the high standards you aim for and the esteem that British diplomacy is held in around the world because of your service and your achievements."
So on this sad but proud occasion and on behalf of the Government and the British people, I lay this wreath to honour the memory of Christopher, Richard, Percy, Graeme, Charles, Stephen, Roger, Lisa, Suleyman, Ismail, Nazime, Cafer, Kiraz, Nazmi, Nanett, Nadide, Arjan and Ali.
Foreign Office staff who died in service:
Sir Christopher Eward-Biggs (Dublin 1976)
Sir Richard Sykes (The Hague 1979)
Mr Percy Norris OBE (Bombay 1984)
Mr Graeme Gibson (Nairobi 1996)
Mr Charles Morpeth MBE, (Bosnia 1997)
Brigadier Stephen Saunders, (Athens 2000)
Mr Roger Short MVO, (Istanbul 2003)
Miss Lisa Hallworth, (Istanbul 2003)
Mr Suleyman Aydo?an (Istanbul 2003)
Mr ?smail Çiftlik (Istanbul 2003)
Mrs Nazime Erkmen (Istanbul 2003)
Mr Cafer Gunduz (Istanbul 2003)
Mrs Kiraz Gunduz (Istanbul 2003)
Mr Nazmi Harmankaya (Istanbul 2003)
Mrs Nanette Kurma (Istanbul 2003)
Mrs Nadide Kuru (Istanbul 2003)
Mr Arjan Abdullah Naftchi (Kirkuk 2006)
Mr Ali Ghazi Abdulhussain Al-Tamami (Basra 2006)
See how the Foreign Office and its embassies, high commissions and missions overseas mark Remembrance Day
Search the news archive
Published 10 November 2011