REME battalion snatches victory in 7th Armoured Brigade sailing challenge
A team from 2 Close Support Battalion Royal Electrical and Mechanical Engineers (REME) has won 7th Armoured Brigade's annual regatta in one of the closest fought contests in years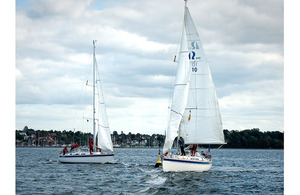 The seven-man crew beat their closest rivals, 32 Engineer Regiment, by just half-a-point to win Exercise Rats Breeze based out of the British Army's adventurous training centre in the port town of Kiel in northern Germany.
Battling through huge waves, bad weather and sleepless nights, the members of 2 Close Support Battalion REME and their boat, the Gannet, managed to sail to victory in the Baltic Sea, leaving the remaining teams from across the brigade in their wake.
But the week-long contest was about more than just a race as the soldiers taking part - mostly novices - eventually left the event having achieved their competent crewman qualification, with one of them, Lance Corporal William McPhee, aged 28, who serves with 4th Battalion The Royal Regiment of Scotland (4 SCOTS), becoming a fully qualified day skipper.
For most of the competitors who, along with the rest of 7th Armoured Brigade, are about to embark on a strict programme of mission specific training designed to prepare them for a likely deployment to Afghanistan next year, this sailing expedition came as a welcome break from their regular duties.
The regatta, which is part of the British Army's programme of adventurous training activities, provided an important opportunity to hone essential military skills such as leadership, map reading, team working and working within a strict command structure - enhancing individuals' abilities to withstand the rigours of operations and rapid deployments.
Winning crew member Lance Corporal James Randall said:
This was my first time sailing - it was fantastic and very exciting. It's fantastic that we won our first sailing race; it went down to the wire but we all worked hard to get the result - I can't believe there was just half-a-point in it.
The military telecommunications engineer joked:
To be honest all that stuff about it's the taking part that counts isn't true - it's actually all about winning and we won't let the second-placed team forget that.
The event tested the soldiers' physical and mental strength - pushing their endurance levels to the limit; they had to live and sleep in cramped conditions on the boat.
Between 23 and 30 September, seven boats, each with a seven-man crew, navigated their way through a number of challenges including long distance passage racing, can racing, in which the boats had to be manoeuvred through a short course of barrels, and a night race in pitch black conditions.
The event covered over 200 miles (320km) in the Baltic and took in the ports of Faaborg, Marstal, Aeroskobing, Aabenraa and Sonderborg in Denmark, and Schilksee in Germany.
LCpl Randall added:
Sailing takes you out of your comfort zone, you have to be adaptable and follow the chain of command - all important parts of being in the Army and essential for when you deploy on operations.
It was a tough week but I am also delighted that I am now a qualified competent crewman.
"I will definitely continue sailing and hope to eventually become a skipper - it's great being out at sea, a brilliant atmosphere on board; we were at a different port every evening and got to see some of Denmark."
Second-in-Command of the Kiel Training Centre, Peter Clayton, said:
Our main aim is to give everyone who comes here a good adventure training experience - if when they leave they also have a national qualification, such as the competent crew certificate, then that is a bonus.

We run a variety of sailing and diving courses - it's all about giving the soldiers self-confidence and in the case of sailing getting them to work together as a team.

There are many benefits that adventure training can give a soldier - including leadership skills and taking them out of their comfort zone. A lot of the soldiers who come here will have either just returned from an operational tour or will be preparing for one - this is a chance for them to let their hair down.
Brigadier Nick Welch, Commander of 7th Armoured Brigade, said:
The 7th Armoured Brigade Regatta, at the end of the Kiel sailing season, was a tremendous event, testing novices and experienced sailors alike. It was great to see young NCOs [non-commissioned officers] skippering the boats and young soldiers, six months out from their first deployment, growing in confidence and leadership throughout the week.
Published 22 October 2010