Press release
Relief for hard-pressed families and a boost for jobs and growth
Secretary of State welcomes the Budget Statement with a range of measures to support Northern Ireland.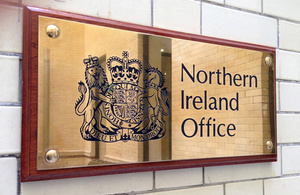 Welcoming today's budget, Owen Paterson said:
This is a budget to reward hard work and ensure that the UK pays its way in the world. It reasserts our determination to put the public finances on a stable footing which is essential to support economic growth, keep interest rates low and protect jobs in all parts of the UK.
The measures announced today provide really significant help to hard working families in Northern Ireland. The increase in income tax personal allowances by a further £1,100 in April 2013 - the largest in thirty years - will benefit 605,000 people in Northern Ireland, and lift 25,000 out of income tax.
I am proud that this government has taken 2 million people across the UK out of tax altogether.
In addition, raising the individual threshold for the withdrawal of child benefit to £50,000 will benefit 16,000 households in Northern Ireland.
This is also a budget for jobs and business growth, which are key objectives shared by both the UK government and the Northern Ireland Executive.
The reduction in Corporation Tax to 22 per cent by 2014 will be a real help to Northern Ireland in encouraging the private sector and seeking international inward investment. At the same time, we are continuing to work intensively through options for devolving Corporation Tax to Northern Ireland.
Tax relief for high-end TV production recognises and boosts Northern Ireland's burgeoning creative industries. There is up to £13.7m to make Belfast a super-connected city with ultra-fast broadband. There is new money to improve mobile coverage along the A2 coast road and A29 Coleraine-Armagh, benefiting road-users and households.
The budget can provide these benefits now because of the decisions we have taken to reduce the record deficit we inherited. Thanks to the reduction in the deficit, and our low interest rates, this government is saving a total of £36 billion in debt interest payments compared to its predecessor. Our measures will ensure the continued stability of the UK economy, create a fairer, more efficient and simpler tax system, and support growth.
Northern Ireland will benefit significantly from today's budget, and it offers a firm-foundation for business-led prosperity in the future. Along with the Executive we will work to make the most of the opportunities it offers.
Notes to editors
Measures announced today which support Northern Ireland:
an increase in the personal allowance by a further £1,100 in April 2013 - the largest increase in the personal allowance in cash and real terms for the last thirty years. This change will lift an additional 25,000 people in Northern Ireland out of income tax and benefit 605,000 individuals
confirmation of plans to devolve the power to set air passenger duty rates for direct long haul flights departing from Northern Ireland to the Northern Ireland Assembly
Corporation Tax reliefs for the high-end television industry which further incentivise investment into this sector, including in Northern Ireland
up to £13.7 million of investment in Belfast to deliver ultra-fast broadband to up to 113,000 residents and 9,000 businesses, and high-speed wireless connectivity to up to 63,000 residents in key areas
an additional £50 million will be made available to fund a second wave of super-connected cities with cities across the UK eligible to apply for funding
investment in mobile infrastructure to deliver improved coverage, including on the A2 between Londonderry and Newry and the A29 between Coleraine and Armagh
a delay in the planned increase in the aggregates levy rate, following the suspension of the aggregates levy credit scheme, which will avoid placing further burdens on the Northern Ireland quarrying industry
£14.3 million of Barnett consequentials, taking the amount of additional funding provided to Northern Ireland by the government since the Spending Review to more than £450 million
Published 21 March 2012