World news story
Relais Pour La Vie
The Relais Pour La Vie is a flagship event in Luxembourg's calendar, including high profile individuals and companies showing solidarity for those dealing with cancer, raising funds and awareness.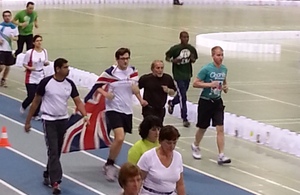 On 16 and 17 March 2013 the British Embassy in Luxembourg fielded a relay team for the event. The team included prominent members of the Luxembourg community, including the Mayor of Luxembourg Xavier Bettel, members of the British community, including representatives of the British Ladies Club and embassy staff.
The embassy team was led by the British Ambassador to Luxembourg, Alice Walpole, and got tremendous support from staff and the British and Luxembourgish communities. The embassy also set up an information stand consisting of material about cancer prevention in the UK.
8,812 participants in 332 different teams ran or walked for either 12 or 24 hours in support of cancer patients. 140 people took part in the "Survivor Tour" and 3,905 candles were lit to commemorate those who had lost their battle with the illness. The embassy team – Team GB! - was proud to offer our support to such an important event in Luxembourg life, and grateful for the support of all of those who wished to be part of our team.
Published 17 March 2013