Rehabilitation through art
The Koestler Trust charity launches a ground breaking exhibition of offender art.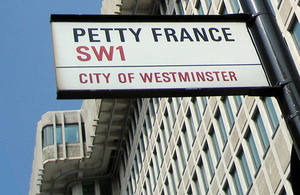 'At the Koestler Trust this is our most hectic, exciting and slightly daunting time of year. We are about to open our annual national exhibition at London's Royal Festival Hall - the 50th in our history.
I'm writing from our base at Wormwood Scrubs, surrounded by carefully wrapped packages of paintings, drawings, photos, needlework, sculpture, pottery and matchstick models - not to mention CDs of music, DVDs of film and boxes of poems and prose. From 21 September to 20 November, this breath-taking array of creativity will form an exhibition produced to the highest professional standards, in the biggest arts centre in Europe - where it will be seen by over 15,000 members of the public.
The UK is the only country in the world with such a national showcase of art by prisoners and offenders on community sentences. It's my job to make sure that it meets two goals:
(1) to reward and motivate the artistic achievements of offenders, and the staff who work with them, and
(2) to get those achievements seen by as wide an audience as possible.
Both these goals are crucial to rehabilitation. The arts are, I believe, the single most cost-effective and powerful way of developing offenders' skills, discipline, self-esteem and relationships - all factors that we know help prevent re-offending. As a prisoner at HMP Buckley Hall has just written to me: 'I always get a sense of achievement since I started doing art. Getting your letter to say my work is in the exhibition, I feel so proud. I can't wait to tell my family.'
But even offenders who turn into model citizens cannot rehabilitate unless housing, jobs and other social opportunities are accessible to them. Stereotypes of monsters or wastrels place huge barriers in the way of resettlement. And it is these stereotypes that our exhibition challenges. Our visitors' book fills up with page after page of comments from the public amazed to find that offenders have such high levels of skill, and moved to tears by the hopes and feelings conveyed by the art. If society at large can come to a similar understanding, then that really will be a rehabilitation revolution - where both offenders and the community work together to reduce re-offending.
Bringing together different perspectives is fundamental to the exhibition. Each year we recruit and train a different group of volunteers to "curate" - that is, to select the 150-or-so exhibits from the 7,000-or-more entries to the year's Koestler Awards, to design the layout and displays, to write comments alongside the artworks, and to lead public talks and tours throughout the 2-month run. Past curators have included young offenders, women prisoners and victims of crime. This year, they are magistrates.
So the 2011 Koestler exhibition is breaking new ground. It shows the art of offenders through the eyes of the sentencers of offenders. The issues it raises are fascinating - especially, I think, about judgement.  How does judgement of crimes compare with judgement of creativity?  In my judgement, the magistrates have chosen a superb collection of art. But please don't just believe me. Come and judge for yourself.'
Published 21 September 2011