Rehabilitation revolution - the next steps
Far reaching reforms to the criminal justice system aimed at driving down high re-offending rates and introducing better value for money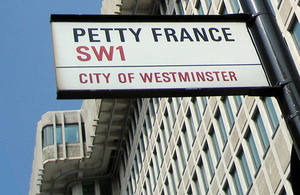 Far reaching reforms to the criminal justice system aimed at driving down high re-offending rates and introducing better value for taxpayers were set out today by Justice Secretary, Chris Grayling.
During a speech today he set out a raft of measures including:
a revolution in the way we rehabilitate offenders, including mentors to meet criminals at the prison gates on release and help them turn away from crime;
a review of the youth estate, putting education at the centre of our work with young offenders;
a review of the prison regime, to ensure no prisoners benefit from undeserved privileges and those who break the rules face serious consequences;
a reshaping of our legal aid system so it commands public confidence; and
a criminal justice and court system that puts victims first.
Justice Secretary Chris Grayling said:
'Reoffending rates in this country are shamefully high and we must revolutionise our approach to reforming offenders - we need to stop recycling people around the system.
'I know we can deliver better rehabilitation for offenders, a smarter system of detaining and educating teenage offenders, a cheaper and better prison system and a criminal justice system that commands public confidence - and at the same time bring costs down.'
He also made clear the significant role the private and voluntary sector will play in the future of offender management, with Payment by Results rolled out across the great majority of community-based offender management work by 2015.
He added:
'I want the state to pay for results and not just for a service. It's the only way to get the best outcome for both the taxpayer and crucially the people we are trying to help.  It means that we only pay for what works. And 'what works' means that those leaving prison don't simply fall back into crime.'
During his speech he said the public sector Probation Service will continue to have an important role to play when it comes to protecting our society against harm.
These latest reforms follow plans to toughen up community sentences so that every adult community sentence includes a form of punishment.
 
We will soon be publishing further details on our reforms to offender management.
Notes to editors
A copy of the speech and further details of our reforms will be available shortly.
For any further details please contact the Ministry of Justice press office on 020 3334 3536.
Published 20 November 2012