Registration open for 2019 Connections UK wargaming conference
The 2019 Connections UK wargaming conference will be taking place at King's College London from Tuesday 3rd to Thursday 5th September. Connections UK brings together the world's best professional wargame practitioners to share ideas and best practice. The 2018 UK Conference attracted more than 200 participants from 24 nations.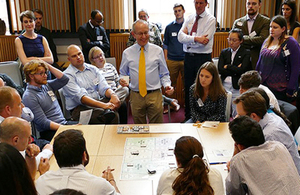 This year's conference will be covering topics such as 'The psychology of wargaming'; 'Wargaming hybrid operations'; 'Quantitative vs. qualitative gaming'; 'Selecting and using Commercial Off The Shelf (COTS) and Modified Off The Shelf (MOTS) games'; 'Data capture, visualisation and analysis'; 'Automation within wargaming', and 'Wargaming the Future'.
Further attractions include two keynote speakers, an introduction to wargaming course and a Games Fair. The conference provides hands-on experience of a large number of game designs and tools, and opportunities to network with many of the world's leading wargaming professionals.
Attendance is a must for officers, analysts, academics and anyone with an interest or involvement in wargaming or conflict simulation modelling.
For further information on Connections UK 2019 and previous conferences please visit: Professional Wargaming
There is a single cost of £90 which provides admittance to all three days of the conference. To register sign up at Connections UK
Published 28 June 2019