Regional Growth Fund opens for business
Deputy Prime Minister Nick Clegg has declared the government's £1.4 billion Regional Growth Fund open for business.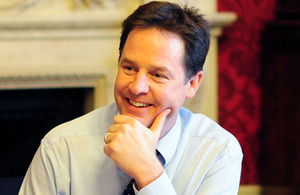 Businesses and local communities will be able to bid for money from the fund to help boost private sector growth in areas currently over dependent on the public sector.
An Independent Advisory Panel of business leaders and economic experts, chaired by Lord Heseltine, will consider all the bids.
The announcement is part of Government plans to kick start local growth, which were announced in a White Paper published today.
Another measure includes the approval of proposals for 24 local enterprise partnerships. Under the scheme, local business and civic leaders will work together to drive sustainable economic growth and create new jobs in their communities.
The Deputy PM said:
We will support growth across the whole country, rewarding hard work and innovation in all of our industries. We understand that areas which rely on the public sector for jobs will need special help. Millions of people across Britain are being asked to bear their share of the difficult decisions needed to get the public finances in order. It's only fair that everybody benefits from future growth too.

Crucially, spreading prosperity across the country also means giving local communities a greater say over how their money is raised and spent. That is why this Government is looking closely at ways of allowing local authorities to keep the business rates they collect.
The membership of the Independent Advisory Panel for the Regional Growth Fund is as follows:
Lord Heseltine, Chair
Sir Ian Wrigglesworth, Deputy Chair
Felicity Goodey (Businesswoman, former senior BBC journalist)
Tony Greenham (Programme Head, New Economics Foundation)
Richard Lambert (Director General, CBI)
Jon Moulton (Chairman, Better Capital equity group)
Caroline Plumb (Entrepreneur, Freshminds)
David Rowlands (Chair of Gatwick Airport Limited and Angel Trains Group Limited)
Mark Seligman (Chartered Accountant and Banker, Credit Suisse) Andrew Shilston (Finance Director, Rolls Royce)
Lord John Shipley (Former Leader Newcastle City Council)
Tony Venables (Academic Economist, Oxford University)
Read more about the Regional Growth Fund and how to apply
Read more about the White Paper
Published 28 October 2010