News story
Regional flood and coastal committees and chair appointments
New Chairs appointed to Anglia (Northern) RFCC, Trent RFCC and Wessex RFCC.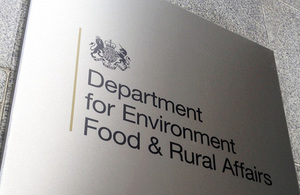 The Department for Environment, Food and Rural Affairs has appointed Edward Poll as the Chair of the Anglia (Northern) Regional Flood and Coastal Committee (RFCC), Vijith Randeniya as Chair of the Trent RFCC and David Jenkins as the Chair of the Wessex RFCC. The Anglia (Northern) and Trent appointments will take effect from 1 July 2015 and will run until 30 June 2018. The Wessex appointment commenced on the 1 January 2015 and will also run until 30 June 2018.
Defra has also re-appointed Anne Wheeler as the Chair of Severn and Wye RFCC and Stephen J Wheatley appointment as the Chair of Anglian (Central) RFCC has been extended until June 2016. The reappointment will take effect from 1 July 2015 and will run until 30 June 2018.
All the appointments followed procedures set out in the Office for the Commissioner for Public Appointments (OCPA) Code of Practice.
All the Chair posts attract a remuneration currently set at £17,503 for a commitment of 5 days per month.
Regional Flood and Coastal Committees (RFCCs) help to provide governance for the Environment Agency Flood and Coastal Erosion risk management functions and cover all flood risks that are not the responsibility of the water companies. They have replaced the Regional Flood Defence Committees which previously existed. There are currently 12 Committees across England.
RFCCs have three main purposes:
to ensure there are coherent plans for identifying, communicating and managing flood and coastal erosion risks across catchments and shorelines

to promote efficient, targeted and risk-based investment in flood and coastal erosion risk management that optimises value for money and benefits for local communities

to provide a link between the Environment Agency, LLFAs, other risk management authorities, and other relevant bodies to develop mutual understanding of flood and coastal erosion risks in its area
Background details on the three new appointments are as follows
Anglia (Northern) RFCC
Eddy Poll is a seasoned local politician with a background in farming and agriculture. He was a member of Lincolnshire County Council from 1997 – 2013, the last two years acting as Deputy Leader. He focussed on strategic and environmental issues and was a member of the Inland Flood Risk Management at the Local Government Association. Eddy Poll has practical and political experience of flooding and the risks and management of. He played a leading role in the development of both the Humber Estuaries Coastal Authorities Group and WASH Shoreline Management Plan and Humber Estuary Management Plan.
Trent RFCC
Vijith (Vij) Radeniya has had a long career in the fire and rescue service rising through the ranks to become Chief Fire Officer at West Midlands Fire Service, a post he held until stepping down in 2008. He was President of the UK Chief Fire Officer's Association from 2010 to 2013. He is currently Chair of Birmingham St Marys Hospice (since 2014) and a Member of the National Employers Advisory Board (Army) since 2014.
Wessex RFCC
David Jenkins is a Solicitor by training. Currently he is a Lay Member and Deputy Chair of NHS Dorset Clinical Commissioning Group and Independent Chair of Gloucestershire County Councils Waste Working Group. Previously he was CEO of Dorset County Council (1999 – 2012) where he did much work on developing both Local Area Agreements (the first in the UK) through his leadership of the Dorset Strategic Partnership and the architecture of local Unitary Authorities. He also played a key role in enabling Dorset to be the Olympic Sailing venue – a legacy project.
Published 9 January 2015