Regional flood and coastal committees and chair appointments
New Chairs appointed to Trent RFCC and Severn and Wye RFCC.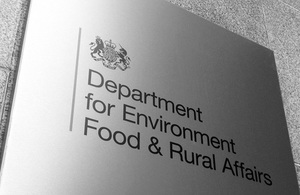 The Department for Environment, Food and Rural Affairs has appointed Tim Farr as the Chair of the new Trent Regional Flood And Coastal Committee (RFCC), and Anne Wheeler as the Chair of the new Severn and Wye RFCC. Both appointments will take effect from 18 April 2012 and will run until 30 June 2015.
The new Trent RFCC and Severn and Wye RFCC have been created by separating the Midlands Severn Trent RFCC. The Environment Agency proposed the division to enable better representation for each Lead Local Flood Authority (LLFA) and develop closer partnership relationships at a local level. 
The Environment Agency ran a consultation on the separation of the Midlands Severn Trent Regional Flood & Coastal Committee in autumn 2011.  The consultation showed support from partner organisations and from private individuals, to proceed with the proposal.  
Defra has also re-appointed Amanda Nobbs as the Chair of Thames RFCC, Frank Major as the Chair of Northumbria RFCC, and Alan Lovell as the Chair of Wessex RFCC.  The Thames and Wessex appointments will take effect from 1 July 2012 and will run until 30 June 2016. The Northumbria appointment will take effect from 1 July 2012 and will run until 30 June 2013.
All the appointments followed procedures set out in the Office for the Commissioner for Public Appointments (OCPA) Code of Practice.
All the Chair posts attract a remuneration currently set at £17,503 for a commitment of 5 days per month except for the Northumbria RFCC which attracts a remuneration currently set at £14,002 for a commitment of 4 days per month. 
Regional Flood and Coastal Committees (RFCCs) help to provide governance for the Environment Agency Flood and Coastal Erosion risk management functions and cover all flood risks that are not the responsibility of the water companies. They have replaced the Regional Flood Defence Committees which previously existed. There are currently 11 Committees across England.
RFCCs have three main purposes:
* to ensure there are coherent plans for identifying, communicating and managing flood and coastal erosion risks across catchments and shorelines;
* to promote efficient, targeted and risk-based investment in flood and coastal erosion risk management that optimises value for money and benefits for local communities; and
* to provide a link between the Environment Agency, LLFAs, other risk management authorities, and other relevant bodies to develop mutual understanding of flood and coastal erosion risks in its area.
Background details of the appointments are as follows:
Trent RFCC
Tim Farr has been the Chair of the Severn and Trent RFCC for the last six years, having served as a committee member for three years prior to that. He has Chair, Board and non-executive positions with a number of private, public and charity sector organisations including the Newark Area Internal Drainage Board, Trent Rivers Trust, Nottingham Forest Football Club and Farmeco, a sustainable farming business in Nottinghamshire.
Severn and Wye RFCC
Dr Anne Wheeler is the Director of the Centre for Learning Innovation and Professional Practice (CLIPP) at Aston University. She is chair of a number of groups and committees including the University's Programme Approval Committee and Learning and Teaching Research Committee. She has an academic background in environmental science and management and has been a member of the Severn Trent RFCC for some years. She has also been involved in Environment Agency working groups on a number of issues including the UK Biodiversity Action Plan and the implementation of the EU Water Framework Directive.
Thames RFCC
Amanda Nobbs has been the Chair of the Thames RFCC (previously Regional Flood and Coastal Committee) for the last three years and was previously a conservation member for some years. Amanda also served as a member of the Inland Waterways Advisory Council and of the Environment Agency's Regional Environmental Protection Advisory Committee. She is a company Director and past Chief Executive at the Council for National Parks. She also holds a number of voluntary environmental roles.
Wessex RFCC
Alan Lovell has been the Chair of the Wessex RFCC (previously RFDC) for the last three years and was previously a member. He is a former Chief Executive of Sedgemoor District Council having had a career in local government as an engineer, and surveyor. Alan also has a number of voluntary roles covering environmental, health and community issues
Northumbria RFCC
Frank Major has been the Chair of the Northumbria RFCC (previously RFDC) since 2003 and was previously a member for three years.  He is currently a Vice Chair of Gateshead Health NHS Foundation Trust and was formerly the General Manager of the Port of Sunderland Authority. He is also the Deputy Lieutenant for Tyne & Wear and a magistrate. Frank has a number of roles for voluntary organisations including the Scouts and RNLI.
Published 11 April 2012