Press release
Regional Flood and Coastal Committee Chair Appointments
Chairs appointed to regional flood and coastal committees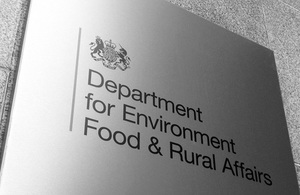 The Department for Environment, Food and Rural Affairs is to appoint Professor Robert Van de Noort as the Chair of the South West Regional Flood and Coastal Committee (RFCC). His appointment will take effect from 6 October 2013 and will run until 30 June 2016.
Defra also recently appointed Jonathan Hargreaves as the Chair of the Northumbria Regional Flood and Coastal Committee (RFCC) until 30 June 2016, and re-appointed Arthur Barker as the Chair of Yorkshire and Humber RFCC until 30 June 2015; Steve Wheatley as the Chair of Anglia (Central) RFCC until 30 June 2015; and Derek Antrobus as the Chair of North West RFCC until 30 June 2017.
Regional Flood and Coastal Committees (RFCCs) help to provide governance for the Environment Agency Flood and Coastal Erosion risk management functions and cover all flood risks that are not the responsibility of the water companies.
Appointments took effect from 1 July 2013.
South West RFCC
Professor Robert Van de Noort is the Dean of the College of Social Sciences and International Studies at the University of Exeter, where he holds a personal chair in wetland archaeology. Over a period of 25 years, he has undertaken extensive research in the dynamics of coasts, rivers and peatlands, and how people have interacted with these landscapes over a period of more than 10,000 years.
Previously, Robert has been involved with the Humber Estuary Shoreline Management Plan and the Wetland Vision Project. He has been a Trustee of the Ponds Conservation Trust, and a member of the IUCN's Inquiry into UK Peatlands. Recently, he led the reconstruction of a full-scale Bronze Age boat at the National Maritime Museum Cornwall in Falmouth.
Robert has lived in Exeter for the last 13 years, with his wife Jane and grown-up children Will and Michael.
Northumbria RFCC
Dr Jonathan Hargreaves has worked in the water industry in the UK and overseas for over 35 years. He was an executive director with both Northumbrian and Scottish Water and has five years experience in non-executive roles. He lives in Northumberland where he exercises his passion for hill walking.
Jon has a broad knowledge and understanding of FCRM issues and priorities at both a strategic and regional level.
Yorkshire and Humber RFCC
Arthur Barker has been the Chair of the Yorkshire and Humber RFCC for the last three years. Arthur has been a Hambleton councillor since 1983 and a North Yorkshire County Councillor since 2005. He was also a chair of Local Government Yorkshire and Humber, the regional partnership of local authorities. He has led the Yorkshire and Humber Climate Change Partnership for several years.
He has considerable experience of flood risk policy and practice, and extensive contacts with stakeholders as he has in depth knowledge of the region.
Arthur lives between Bedale and Ripon - manages the family farm, having farmed there all his working life. He has three grown-up children.
Anglia (Central) RFCC
Stephen Wheatley has been the Chair of the Anglian (Central) RFCC for the last five years. He is a chartered civil engineer, who has 31 years experience of working for public service organisations, of which 23 were at a senior management level. He has considerable experience of flood and coastal risk management policy and practice, extensive contacts with stakeholders and an in-depth knowledge of the region.
North West
Derek Antrobus has chaired the North West Regional Flood and Coastal Committee since 2010. He is Assistant Mayor for Planning for Salford City Council on which he has served for 34 years. His role at the council includes responsibility for flood risk management.
He is experienced in North West local government, having been a member of the North West Planning Group. He currently represents local authorities in the region on the Local Government Inland Flood Risk Management Group and is a member of the Local Government Flood Forum.
He is active in Greater Manchester as member of the Planning and Housing Commission, the Local Nature Partnership, the Greater Manchester Energy Group and chairs the Red Rose Forest Partnership, a community forests initiative in the county.
He is a trustee of the Community Forests Trust and of the People's History Museum. He works as an associate lecturer for The Open University.
Published 21 June 2013
Last updated 25 July 2013
+ show all updates
Added additional appointment regarding South West RFCC.
First published.