Press release
Regional Flood and Coastal Committee Chair appointments
New appointments of Chairs to the Anglian (Northern) and Southern RFCC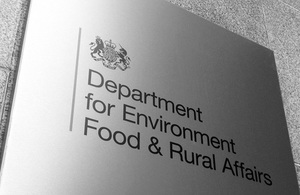 The Department for Environment, Food and Rural Affairs has appointed Robert Caudwell as the Chair of the Anglian (Northern) Regional Flood and Coastal Committee (RFCC) with effect from 1 July, and Lorraine Brown as the Chair of the Southern RFCC, with effect from 1 August 2012.  Their appointments will run until 30 June 2015. 
The appointments followed procedures set out in the Office for the Commissioner for Public Appointments (OCPA) Code of Practice.
The Chair posts attract a remuneration currently set at £17,503 for a commitment of five days per month.  
Regional Flood and Coastal Committees (RFCCs) help to provide governance for the Environment Agency Flood and Coastal Erosion risk management functions and cover all flood risks that are not the responsibility of the water companies. They have replaced the Regional Flood Defence Committees which previously existed. There are 12 Committees across England.
RFCCs have three main purposes:
to ensure there are coherent plans for identifying, communicating and managing flood and coastal erosion risks across catchments and shorelines;
to promote efficient, targeted and risk-based investment in flood and coastal erosion risk management that optimises value for money and benefits for local communities; and
to provide a link between the Environment Agency, LLFAs, other risk management authorities, and other relevant bodies to develop mutual understanding of flood and coastal erosion risks in its area.
Background details of the appointments are as follows:
Anglian (Northern) RFCC
Robert has been a Chair of the Anglian (Northern) RFCC for the last seven years. He has Chair, Board and non-executive positions with a number of public sector organisations. He also holds a number of senior positions with the National Farmers Union including Chair of their National Audit Committee.
Southern RFCC
Lorraine was Executive Director of Environment at Southampton City Council from 2003 until 2011.  Before that she held a variety of other positions within Southampton and other local authorities.  As Executive Director at Southampton she was Chair of the Southampton Flood Defence Strategy Group.
Published 22 June 2012