World news story
Regional Anti-Corruption Conference in Bucharest
Opening speech by British Ambassador Martin Harris: 'The cost of corruption equals more than 5% of global GDP'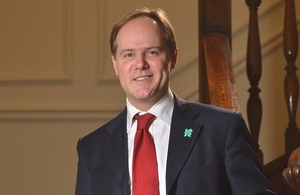 Your Excellencies, Ladies and Gentlemen,
Firstly, I would like to pay tribute to the excellent work of this pan-European organising team in pulling this SEECP Regional Anti-Corruption Conference together: the Romanian Ministries of Justice and Foreign Affairs; the Konrad Adenauer Stiftung; the Regional Cooperation Council; and the British Embassy in Bucharest.
I am truly honoured to stand before you today on what is sadly my final public appearance as the British Ambassador to Romania. That being said, I feel there couldn't be a more fitting event to bring my four year mandate to conclusion. The British Embassy in Bucharest has always worked closely with Romanian judicial practitioners to share expertise and best practice, and help boost capacity in the fight against corruption.
To underline this, I would like to thank especially the Honourable Society of the Inner Temple for their crucial contribution. For those of you who are not aware about the Inner Temple, it is one of the UK's prominent societies for recruiting and training barristers or prosecutors, and who hold Mohandas K Gandhi as one of their alma mater. Four of their most senior members are with us today: The Right Honourable Lord Tomlinson, Lord Justice of Appeal; Ms Alison Saunders, Director of Public Prosecutions; His Honour Judge Alistair McCreath, Senior Circuit Judge; and Professor Barry Rider, Professor of Law, University of Cambridge. And to highlight the UK's interest in working closer with the SEECP region, I would also like to welcome colleagues from the National Crime Agency and the Crown Prosecution Service to Bucharest.
I would now like to refer back to the blog I posted yesterday called Security depends on Judges, not just Generals.
To underline this our Foreign Secretary William Hague argued in an article for the Sunday Telegraph newspaper on 30 March that Ukraine's future security depends crucially on dismantling the oligarchic state that characterised Yanukovych's rule and taking resolute steps to tackle corruption. He also advocated more determined action in tackling corruption in the Balkans as well, to ensure strong, stable and democratic states in this part of Europe as they become more integrated with the European Union too.
The fight against corruption affects us all. Estimates show that the cost of corruption equals more than 5% of global GDP or 1.9 trillion Euros according to the World Economic Forum. The World Bank estimate that over 0.73 trillion Euros paid in bribes each year. Within the EU corruption costs 120 billion Euros per year, just a little less than its annual budget. But it is not just figures. We also need to convince our citizens that we are tackling it. Four out of five EU citizens regard corruption as a serious problem in their Member State.
I am also pleased that this conference will focus on asset recovery. This is an area where the UK learnt the hard way. Prior to the Proceeds of Crime Act of 2002 we found our tax rules were allowing drug dealers to register with the tax authorities and pay tax on their criminal income. Huge challenges remain as estimated criminal profits in the UK are around 3 billion Euros per year. We need to sustain our efforts as criminals quickly learn to beat the law. But we must continue to stay ahead of the curve because taking away assets hurts criminals far more than stints in jail. And for that to be effective we need to cooperate across borders and jurisdictions.
I wish you all the very best for the next two days. Once again I am very pleased that the British Embassy in Bucharest is associated with this event. And I look forward to hearing about how we can boost regional cooperation in the fight against corruption.
Published 8 April 2014