Reforms will lead to first cut in waiting lists for 22 years
Housing Minister Grant Shapps has today pledged that the Government's package of reforms will lead to the first substantial reduction in social…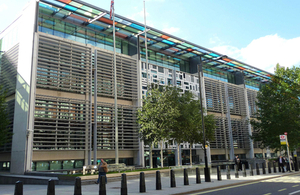 Housing Minister Grant Shapps has today pledged that the Government's package of reforms will lead to the first substantial reduction in social housing waiting lists for 22 years.
The Minister argued that measures the Government is taking - including delivering 150,000 new affordable homes over the Spending Review, and greater flexibility for councils to manage their own waiting lists - will reduce the numbers of people waiting for years for a council home.
The Minister said that he wants to return to the central principle of social homes being available to help those who need it most, for as long as they need it - to tackle what he deems the "the deepening sense of unfairness" about how the country's social housing stock is used.
The Minister said that social housing in England has for too long helped too few, and has needlessly applied the brakes on tenant's aspirations and halted their ambitions. He argued that the social housing of the future must become more flexible and go beyond just putting a roof over people's heads.
Recent cases that have been brought to the Minister's attention include:
Two parents sharing their three-bedroom housing association home with their five children and two-year-old grandchild, who has learning difficulties. The oldest daughter has been on the council waiting list for years, and while she continues to live in the home her parents sleep in their small living room and have no privacy;
A family of four struggling to live together in a one-bedroomed flat. The family, which includes a two-year-old son and a young baby took the flat as the only council accommodation available at the time; and
A single parent struggling to pay her rent - when she split up with her partner, this mother took reduced hours at work to care for her young son. This has left her struggling to pay her rent and save for a deposit to buy a home.
The proposed changes - to be published in more detail today - are a key step in delivering reform and making social housing fairer by striking a sensible balance between the needs of new and existing tenants, and ensuring the support that social housing provides is focussed on the most vulnerable.
Mr Shapps also said he wants to see a return to the premise of social housing being a springboard to success. So he will say that whilst good, affordable housing should be available for those who genuinely need it - and for as long as they do - tenants have a responsibility to use it to achieve their aspirations.
Therefore, tenants will be supported in forming tenant panels and will have new opportunities to have a say over how their services are provided and to take over some of the responsibilities currently held by landlords - such as carrying out small repairs to their property - to allow them to build up their skills.
And by giving landlords the option of offering flexible tenancies as well as continuing to offer lifetime security where it is needed, better use can be made of the country's social housing to ensure more people benefit.
He said that successive Governments had promised to make social housing a top priority for decades, but that only now was the most radical shake up of social housing for 50 years being introduced to truly turn it into a springboard to help people make a better life for themselves and for their communities.
Housing Minister Grant Shapps said:
It's time to pull social housing out of the sidings and onto the right track. I'm confident that the changes we're making will lead to the first substantial reduction in waiting lists for 22 years. For too long, social housing simply hasn't helped as many people as it could, leading to the deepening sense of unfairness that continues today. It has needlessly applied the brakes on tenants' aspirations and halted their ambitions - when social housing has always been intended to provide more than just a roof over their heads.

Up and down the country, families are speaking to their council in the hope of securing a social home as a hand up in life, but all too often they never get a call back. We need reform - real reform that radically overhauls a system that has five million people stuck on its waiting list. So we are introducing a new system of social housing in the most radical reforms for a generation, ensuring those in greatest housing need are given priority.

This new system will be more flexible, with councils and housing associations able to offer fixed term tenancies that give people the helping hand they need, when they need it. But above all it will be fairer - social landlords will now be able to make decisions that genuinely meet the needs of local people, and the changes will not affect the rights of existing tenants.
Notes to editors
1. Today's consultation documents can be found at: www.communities.gov.uk/publications/housing/socialhousingregulator.
2. This consultation outlines the areas on which the Government proposes to direct the social housing regulator to set standards. These are:
Tenure reform: to allow social landlords to issue flexible tenancies, subject to conditions, to make better use of existing and future stock. In implementing these reforms, we will respect the rights of existing secure and assured tenants
Mutual exchange: to enable access to internet-based mutual exchange schemes to give tenants who want to move the best possible opportunity of finding a match
Tenant involvement: to strengthen landlord accountability to tenants and support the Tenant Cashback model, providing new opportunities for social housing tenants to get involved in commissioning repair and maintenance service for their homes
Rent: to make changes to reflect the introduction of the Affordable Rent model
Quality of accommodation: to clarify that providers are expected to maintain their stock at a decent level
Twitter
Keep up to date with the Department by following us on Twitter (external link).
Media enquiries
Visit our newsroom contacts page for media enquiry contact details.
Published 7 July 2011