Press release
Reforms to compensation payouts announced
Measures to change the way compensation payouts are calculated have been unveiled today by Lord Chancellor David Lidington.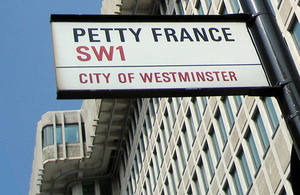 The announcement follows a pledge made by Ministers in February to consult on whether there was a fairer way to set the "discount rate" in future.
The reforms will make sure personal injury victims get the right compensation - and could also see significant savings for motorists through lower car insurance premiums and the NHS.
The discount rate is the percentage used to adjust compensation awards for victims of serious personal injury, according to the amount they can expect to earn by investing it.
The adjusted awards should put claimants in the same financial position they would have been in had they not been injured – they should receive neither more nor less than 100% compensation.
In February this year the discount rate was reduced from 2.5% to minus 0.75%, in accordance with the law.
As a result, Ministers launched a full consultation in March and analysis of the feedback, along with other research, has indicated that claimants often take more investment risk than the law currently assumes.
The changes, proposed in draft legislation, mean the rate would be set by reference to "low risk" rather than "very low risk" investments as at present, better reflecting evidence of the actual investment habits of claimants.
The proposals will also ensure the rate is reviewed more regularly in future – at least every three years – and extend the expertise available to the Lord Chancellor in carrying out the reviews by creating a role for an independent expert panel in the process.
Ministers are keen to engage on the issue ahead of a Bill being introduced into Parliament.
Lord Chancellor and Justice Secretary David Lidington said:
We want to introduce a new framework based on how claimants actually invest, as well as making sure the rate is reviewed fairly and regularly.

In developing our proposals, we have listened carefully to the views of others, and we will continue to engage as we move forward.
While it is difficult to provide an estimate, based on currently available information if the new system were to be applied today the rate might be in the region of 0% to 1%.
The move will help ensure that claimants continue to receive full compensation, but will significantly reduce overpayment by more reliably reflecting how the money is actually invested.
Published 7 September 2017