Reflecting on Pope Benedict XVI's message a year on from UK visit
Prime Minister David Cameron sends message to mark first anniversary of the Papal visit to the UK.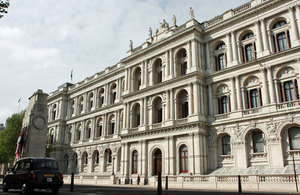 Pope Benedict XVI holds private meeting with Prime Minister David Cameron, 18 September 2010
In a message to mark the one-year anniversary of Pope Benedict XVI's visit to the United Kingdom, Prime Minister David Cameron reflects on the Pope's powerful message about the importance of "compassion, tolerance and justice".
Affirming the relevance of Pope's message one year ago as well as today, the Prime Minister said: "we need more than ever to build a new culture of social responsibility and develop strong and powerful communities as we deal with tough economic challenges".
The Prime Minister looks forward to continuing the "ever closer co-operation" between the UK and the Holy See in working for the common good.
Published 19 September 2011