Press release
Reducing flood risk in Glenridding, Cumbria
Improvements to Glenridding flood defences are underway this week, as work starts on a new wall to protect residents from flooding.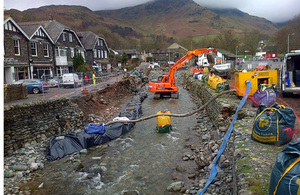 Improvements to flood defences are underway on the 27th of April as the Environment Agency starts work on a new wall to protect residents from flooding in the village of Glenridding in Cumbria.
The new flood defence wall, which will be 140 metres in length and a metre above the ground, is designed to provide flood protection to residents and properties along the bank of the river. Contractors have already formed a foundation and excavated for the first 20 metre section of the wall; which will start 10 metres upstream of the A592 Road Bridge. The wall will be made of concrete and faced with local stone and is due to be completed by autumn 2016.
This activity in Glenridding forms part of a much wider programme of work to repair flood defences and identify new ways of reducing flood risk across Cumbria in the wake of December's devastating floods.
Cumbria County Council and the Environment Agency continue to investigate the cause and extent of flooding in Glenridding so they can establish how and why properties and businesses flooded. The findings will be published by the county council in a Section 19 Flood Investigation Report, which will consider what can be done to prevent flooding, or reduce its impact, in the future. Once agreed the reports can be used by communities and agencies as the basis for applications for funding to allow schemes to be implemented.
A draft report is due to be shared with the local community at a meeting in Glenridding Village Hall at 7pm on Thursday the 9 June. Further details can be found on the Cumbria County Council website.
To supplement all this work, the Cumbria Floods Partnership, chaired by Flood Minister Rory Stewart MP, is also investigating what can be done across the whole Eden catchment – which includes the whole Ullswater area - to slow the flow of water and manage flood risk across the whole area. The Environment Agency is a core member of this partnership and has employed 3 Catchment Directors to lead this work. They aim to publish a 25-year Action Plan in July.
Kath Tanner, Environment Agency Flood Recovery Manager, said:
This winter's flooding has had a devastating effect on people in Cumbria and the Environment Agency is doing everything possible to restore protection to communities with a repair programme underway.

As well as carrying out emergency repairs, constructing new defences such as this wall in Glenridding, inspecting defences and clearing gravel from rivers, we have also been visiting communities to hear from those people affected. We want to tap into local knowledge and give local people a chance to shape our plans for the future to ensure we have the best possible plans in place to reduce the risk of flooding.
People can stay updated with progress by logging on to our time-lapse camera online, which takes photos of the construction site every hour between 7am and 7pm. Go to Glenridding web camera and accept the terms and conditions to view the latest image, and click on the back arrow to view older photos.
Published 29 April 2016