Press release
Reducing flood risk in Girton
Work is starting on Monday 15 September 2014 to reduce the flood risk in Girton, Cambridgeshire.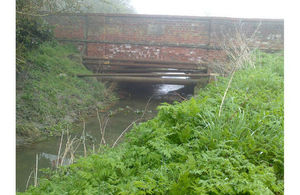 During heavy rainfall the service pipes which span the Oakington Road Bridge prevent the increased volume of water from flowing downstream and away from the village, raising the water levels in the Beck Brook and on occasion causing flooding from the brook.
Georgina Nichols, Flood Risk Advisor at the Environment Agency said:
The service pipes which carry everything from electricity and gas to cable TV and foul water will be relocated beneath the Beck Brook. We've worked closely with Cambridgeshire County Council throughout the process and have successfully negotiated the relocation of the pipes with each of the identified owners - without their full cooperation this project would not be possible.
The Environment Agency has appointed contractor J N Bentley Ltd to carry out the preliminary works and the removal of the redundant pipes, once the services have been relocated beneath the brook. The work is expected to take approximately 6 weeks and will mean intermittent traffic restrictions. The brook will be temporarily dammed and water will be pumped over the works so that trenches, for the new pipes, can be dug in the dry. The trenches will then be back filled, the temporary dam will be removed and the owners of the service pipes will then be asked to reroute their services to the new pipes. The old service pipes will be taken down.
The Environment Agency is responsible for managing the risk of flooding from main rivers, reservoirs, estuaries and the sea. Every £1 invested on protecting communities saves £8 in damage repair. The Environment Agency works in partnership with councils, businesses, communities and others to reduce the risk of flooding and create a better place for people and wildlife.
Published 12 September 2014