News story
Red tape spotlight shines on company and commercial law
For the next three weeks, the latest phase of the Red Tape Challenge will focus on more than 120 company law regulations, guidance and enforcement…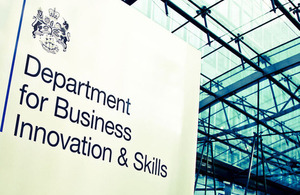 For the next three weeks, the latest phase of the Red Tape Challenge will focus on more than 120 company law regulations, guidance and enforcement processes that businesses deal with on a daily basis.
The campaign asks for a variety of suggestions about how regulations can be improved, simplified or abolished, whilst maintaining a company law framework that gives companies the flexibility to compete and develop effectively.
Examples of areas open for comment include:
Internal workings of companies and partnerships: Rules on shares and share capital, requirement to hold information at business premises and rules on meetings and resolutions.
Accounts and returns: The content, form and auditing requirements of financial accounts and other reports.
Business names: The rules covering company names.
Disclosure of company information: The regulations covering the information companies must supply to the official register.
Business Minister, Edward Davey said:
"We want to have a flexible regulatory framework within company law to allow firms to compete and grow successfully. The Red Tape Challenge is a great way for the public and firms to tell us what is a nuisance or gets in the way of doing business effectively.
"The feedback we receive will allow us to build on the Companies Act 2006 to look at areas such as the audit regime to assist small and medium sized companies as well as the approach to filing documents at Companies House. I am open to new ideas to simplify, merge or discard additional rules that will enable firms to do business with more confidence."
Head of Corporate Governance at the Institute of Directors, and company law sector champion, Roger Barker said:
"The Red Tape Challenge is an excellent opportunity for companies to get their voice heard and help inform government thinking and policies. Companies need to spend time on doing business, creating jobs and growing, not spending time filling in forms for no good reason.
"We must be sure that regulation is proportionate and that the company law framework protects companies and their creditors whilst minimising red tape and making the running of a company as simple as possible. I look forward to seeing some new and exciting proposals from business to help inform this important work."
Chartered Accountant at Baker Tilly Tax and Accounting Ltd, and company law sector champion, Danielle Stewart said:
"I am very excited by the opportunity to be an official Red Tape Challenge Champion, because I have been deeply involved in the development of better, more appropriate regulation since the early 90's. As a practicing Chartered Accountant, I have often seen smaller businesses in particular struggle with the weight and complexity of bureaucracy applicable to them.
"Here in the UK, we have led the world in the development of differential accounting standards; we already have a 'think small first' approach to Company Law embodied in the 2006 Companies Act. Against this backdrop, The Red Tape Challenge represents an opportunity to go the final mile towards ensuring that every aspect of regulation applicable to UK companies is necessary, appropriate and is as efficient as it can be."
The Government has today published a discussion paper to coincide with the start of the spotlight period, seeking views on proposals and calling for further suggestions for improvements.
The results of the Red Tape Challenge for company and commercial law will be published later this year.
Notes to editors:
The Red Tape Challenge was launched by the Prime Minister on 7 April 2011. It gives business and the public the chance to have their say on some of the more than 10,000 regulations that affect their everyday lives. The website is available at www.redtapechallenge.cabinetoffice.gov.uk

The campaign has six cross cutting themes that affect all businesses and are open throughout the whole of the campaign. The company law theme will run from 26th January to 16th February 2012.

Overall, of over 1,200 regulations considered so far, the Government has agreed to scrap or improve well over 50% - decisions that will bring real benefit to businesses, Civil Society organisations and individuals.

The Challenge process does not include legislation or regulations falling within the responsibilities of the devolved administrations.

Biography of Dr. Roger Barker
Dr. Roger Barker has been Head of Corporate Governance at the Institute of Directors (UK) since 2008.
Dr. Barker sits on advisory boards at a number of organisations, including the European Confederation of Directors' Associations (ecoDa) and the Institute of Chartered Accountants in England and Wales (ICAEW). He is a visiting lecturer at the Said Business School (University of Oxford), ESSEC (Paris), UCL (London) and the Ministry of Defence (UK), and a former adviser to the EU Economic and Social Committee in Brussels.
Dr. Barker's recent book - Corporate Governance, Competition, and Political Parties: Explaining Corporate Governance Change in Europe - was published by Oxford University Press in January 2010. He is also the author (with Dr. Neville Bain) of the IoD's main guide to the role of the board, The Effective Board: Building Individual and Board Success, which was published by Kogan Page in September 2010.
Dr. Barker spent the first part of his career in various senior roles in investment banking in London and Switzerland. He is the holder of a doctorate on corporate governance from Oxford University, where he was a Lecturer at Merton College, and has degrees in economics, finance and political science from the universities of Cambridge, Southampton and Cardiff.
Biography of Danielle Stewart
Danielle Stewart is a partner at Baker Tilly, a top ten firm of Chartered Accountants, and she has been at the forefront of small company deregulation for many years.
She was a founding member of the CCAB project, which in 1995 led to the issue of the first differential reporting standard for smaller companies, the FRSSE (Financial Reporting Standard for Smaller Entities). She then became a founding member of the ASB committee which updates the FRSSE, the Committee for Accounting for Smaller Entities (CASE), on which she served for six years.
Over the intervening years, Danielle has been involved in many SME/deregulatory projects within the accountancy profession, including; Vice Chair of the UK Auditing Practices Board Small Company Committee, Member of the "Think Small First' team during the UK's Company Law Review and Chair of the London Society of Chartered Accountants Technical Committee for many years, amongst several other projects.
Danielle was a member of the ICAEW working party which commented on the 2007 consultation from the European Commission's company law simplifications project. This led to her chairing an ad-hoc group set up the by the ICAEW to respond to the EC on any measures designed to simplify company law and financial reporting for SMEs. This resultedin the European Financial Reporting Advisory Group (EFRAG) appointing Danielle to their newly formed SME Committee, which advises the European Commission on changes to company law, in so far as they affect financial reporting for private companies.
In addition to SME oriented work, Danielle is a very active member of the ICAEW's Financial Reporting Committee (FRC), which issues responses on all financial reporting based consultations from both the UK and the Global regulators and standard setters.
BIS's online newsroom contains the latest press notices, speeches, as well as video and images for download. It also features an up to date list of BIS press office contacts. See [http://www.bis.gov.uk/newsroom](http://www.bis.gov.uk/newsroom) for more information.
Notes to Editors
Contact Information
Name BIS Press Office Job Title
Division COI Phone
Fax
Mobile
Email NDS.BIS@coi.gsi.gov.uk
Name Ed Smith Job Title
Division Department for Business, Innovation and Skills Phone 020 7215 5945 Fax
Mobile
Email ed.smith@bis.gsi.gov.uk
Published 26 January 2012