Red tape holding back councils cut by more than a quarter
The Government has reduced the amount of 'red tape' data collections it expects councils to send by over a quarter - giving them more time to…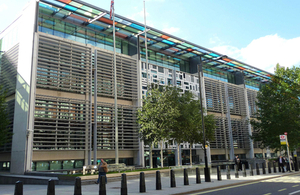 The Government has reduced the amount of 'red tape' data collections it expects councils to send by over a quarter - giving them more time to focus on residents and local priorities, Local Government Secretary Eric Pickles announced today.
The new 2012-2013 list of the information councils are expected to report to central government, published today, shows a reduction in demands from 193 data collections last year to 156 this year.
The Government introduced the single comprehensive list of required data collection last year as a way to reduce the burden of top down demands.
Cracking down on pointless bureaucracy and freeing councils from regulatory burdens is a top priority. Since summer 2010 the Government has ended 56 separate data collections placed on local government and seriously scaled back a further 19. This builds on decisions to end over 4700 local government targets.
Councils, for example, no longer have to spend time and money, on sending in complex planning monitoring or completing a housing subsidy form three times year.
The Government has abolished an array of key bureaucratic burdens including the National Indicator Set; Local Area Agreements; the Comprehensive Area Assessment; the £5 million Place Survey and 66 pages of guidance on how to report efficiency.
Ministers are also putting in place a rigorous 'real time' gateway to prevent the build up of new data burdens on local government throughout the year. Councils will not have to provide anything that is not on the list unless funding is made available.
The Department continues to reduce the overall burden of regulation on businesses too. New measures in the Localism Act planning reforms will result in estimated benefits to businesses of £14 million per year.
Eric Pickles said:
For too long central government has kept Town Halls hunched over desks crunching numbers or wielding clipboards asking the public intrusive questions.

We know councils are most effective when they are free to innovate and respond to what local people want without undue interference from Whitehall.

That is why we are chopping great chunks of pointless red tape out of the system - radically reducing the demands, burdens and restrictions put on Town Halls by central government. In next to no time at all we have scaled this back more than a quarter.

But we are not stopping there - business and communities deserve much less interference from government and we remain determined to push as hard as we can and crack down on unnecessary red tape and regulation anywhere we find it.
Notes to editors
The 2012-13 single data list can be found at: www.communities.gov.uk/localgovernment/decentralisation/tacklingburdens/singledatalist/.
Twitter
Keep up to date with the Department by following us on Twitter (external link).
Media enquiries
Visit our newsroom contacts page for media enquiry contact details.
Published 11 April 2012