Red Arrows displays to mark opening of the 2012 Olympics
As the countdown to the 2012 Olympic Games hits 100 days it has been announced that the Red Arrows will perform throughout the UK as part of the opening celebrations.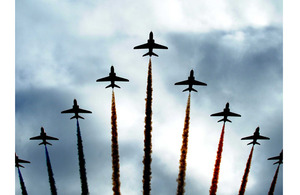 The London Organising Committee of the Olympic and Paralympic Games (LOCOG) announced today that the world-famous aerobatic display team the Red Arrows will perform a nine-ship flypast in their 'Big Battle' formation at locations around the UK to mark the opening ceremony of the Olympic Games on 27 July, providing a stunning curtain-raiser to the show.
Flying over London 2012 Live Sites in Belfast, Cardiff, Edinburgh and London before the opening ceremony begins, the iconic Royal Air Force Aerobatic Team will herald the start of the Games, and welcome the world in quintessentially British fashion.
Officer Commanding the Red Arrows, Red 1, Squadron Leader Jim Turner, said:
The Red Arrows are honoured to have been invited to take part in the London 2012 Olympic Games celebrations to represent both the Royal Air Force and the very best of British. My whole squadron, pilots and ground support staff alike, share the pride and privilege of being part of such a special occasion.
London 2012 Live Sites will be among the destinations in 22 towns and cities across the UK for communities to come together and cheer on the athletes this summer. Up to 500,000 people per day are expected to celebrate the Games at Live Sites throughout the country, and watch the sporting action on the big screens.
LOCOG also today unveiled the motto for the Games - 'Inspire a generation'. Reflecting the promise made when London bid for the Games, the motto will appear on branding and publications in the run up to, and during, the Games.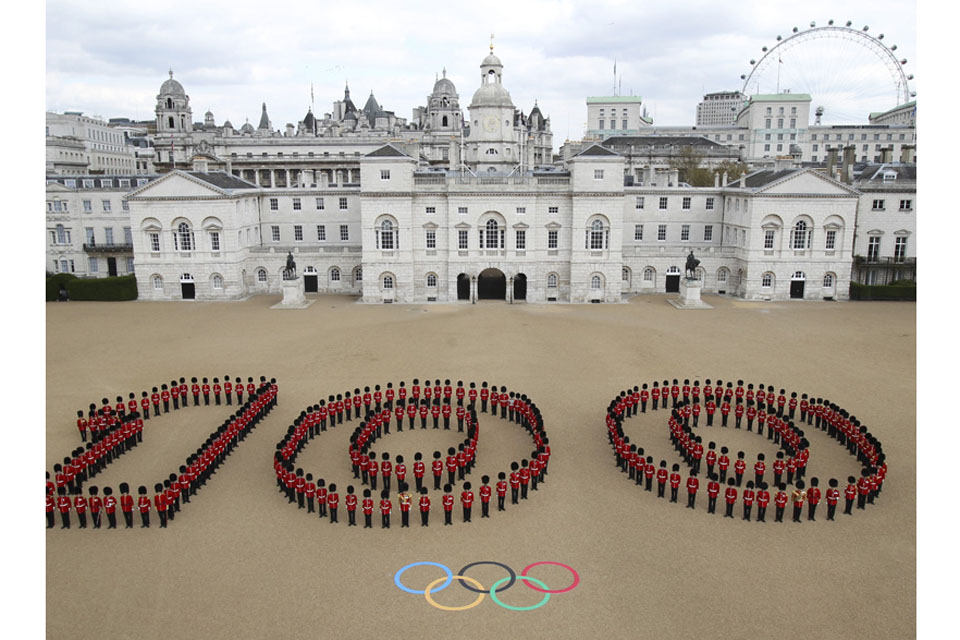 In addition, the latest 'spectacular' installation of the Olympic rings has been unveiled at the Royal Botanic Gardens in Kew, West London.
The rings, which are 50m long, are made up of 20,000 plants and will be visible from the Heathrow flight path. The flowers were planted over a period of five days by a team of volunteers and Kew staff and consist of Pansy 'Light Blue', Viola 'Clear Yellow', Viola 'Black Delight', Apple mint, and Viola 'Red Blotch' plants. They will be in full bloom for the summer.
LOCOG Chair Seb Coe said:
With 100 days to go to the start of the Games, millions of people are getting ready to do the best work of their lives and welcome the world this summer.
There is a groundswell of support and excitement, not just in the UK, but internationally, as the final countdown to the London 2012 Olympic Games begins. Whether it's the competing athletes or people getting ready to join their communities in supporting Torchbearers on the streets of the UK, the whole world is getting ready for London. Expectations are high, and we won't disappoint.
Published 18 April 2012